Quote:
Question #1: Is it possible to edit all themes using Vista Style Builder? Or can we just modify Aero?
It can only edit the .msstyles that has both Aero and Basic themes in it if you look under the start menu or taskbar you will see both Aero & Basic. When you start a new theme you can go to C:\Windows\Resources\Ease of Access Themes and get a copy of basic.theme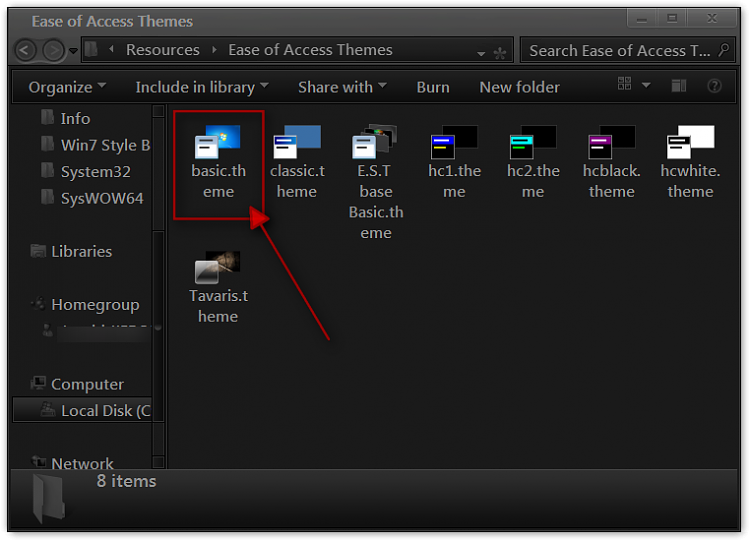 and follow this post #38 steps 4 and 5 to rename it
Start menu color change ??
Quote:
Question #2: I couldn't manage to remove the shine effect on active task bar buttons cos I don't really know what to do when I open the parts you indicated on your previous posts using Vista Style Builder. To be honest, it is really hard for such a rookie as me to capture all these things at once
You need to hit the edit button and set your image editor and start editing, But I got it for you.
Open the zip you will get just the .msstyles
Switch to default aero theme then logoff/logon go to C:\Windows\Resources\Themes\AeroLucida and rename the old aeroLucida.msstyles to aeroLucidaBackup.msstyles and put the new 1 in there then you're good to go.
Quote:
Question #3: I also want to have Lucida Sans Unicode as the font of explorer windows commands which is placed under the explorer address bar. Is it tangible?
It is Lucida Sans Unicode I think it's the text color that makes it hard to see I changed it to black and made all the text that was size 9 to size 10.
Quote:
PS: I have witnessed many theme creators use Restorator, which you also recommended, and then I have downloaded it. If it is more practical than Vista Style Builder
You can edit the .msstyles with both but WSB I think you can change fonts, text colors, and more test easier. But Restorator you can edit system files for icons and other things WSB will not do.
Jerry