Jerry,
Thank you for investing your time to help me with this. Theme building newbies everywhere will be very pleased. It's alright if you can't locate the image numbers of Tavaris. Anyway, here comes another numbered inquiries.
1.
I just finished modifying explorerframe.dll. I seem to be having problems with creating .bmp with alpha channels. Any tips?
2.
I seem to be having trouble replacing my explorerframe.dll
I did the necessary steps like taking ownership and renaming the original file before I place my modified file inside system32 and syswow64 folders. But take a look at the screenshot below.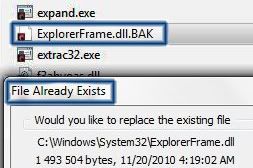 There seem to be an invisible explorerframe.dll which I must overwrite. The red overlay icon indicates that this file was hardlinked, so when I looked into its Properties, it points me to Windows\winsxs and I understand that it's a shadow copy. How were you able to successfully place a modified explorerframe.dll with all these hassles that I experienced?
The only way for me to successfully place a modified explorerframe or shell32 files inside system32 and syswow64 was to zip my modified files, place it in any folder, open it and then extract it directly to system32 and syswow64. That method works for me. But...
3.
When I tried to test modified my explorerframe.dll and shell32.dll but after restarting my pc, explorer.exe can't start and gives me an error 0x000007b and it leaves me with a blank white screen, indicating that explorer is not really running. I have to revert back to a restore point to make my pc workable.

I don't know what to do. Help.