I was working on an Windows XP machine, and got to thinking how much I miss the option to right click the network icon in the system tray and going straight to Adapter settings. Instad of Windows 7 behavior where you have to go to System Sharing Center first.
Now I know I can make a shortcut straight to Adapter settings, I already did that along time ago. like it is explained here - but its not enough.
Network Connections - Create Shortcut
Is there really no way in in Windows 7 to hack the right click menu of the tray icon to add the feature Adapter settings?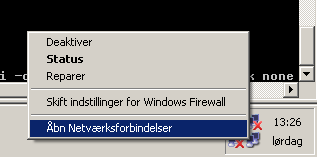 (Don't mind the danish languish I think you get my point)