Hello
I have installed Classic Shell 1.9.0 its cool !!!



I will the user picture for Win7 start menu in the classic start menu we maked it see screenshot ???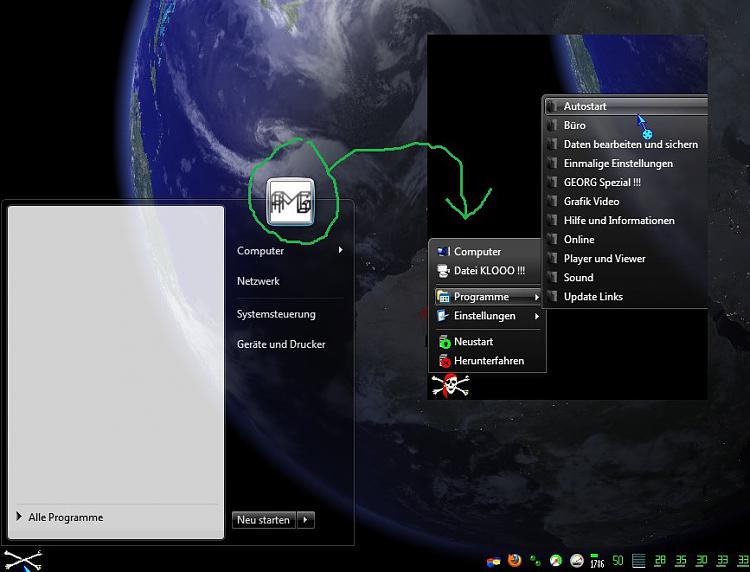 Here is my StartMenuItems.ini settings:
; MAIN_MENU.Items - the structure of the main menu. You can add or remove items here
; REMOVE THE SEMICOLON FROM THE BEGINNING OF THE NEXT LINE TO ENABLE THE CUSTOM MENU STRUCTURE
MAIN_MENU.Items=PROGRAMS, SettingsMenu, SEPARATOR, DisconnectItem, RestartItem, ShutdownItem
; SettingsMenu - the name, icon and structure of the Settings menu
SettingsMenu.Items=CONTROL_PANEL, SEPARATOR, PRINTERS, TaskbarSettingsItem, SEPARATOR, ClassicSettingsItem
SettingsMenu.Name=$Menu.Settings
SettingsMenu.Icon=shell32.dll,330
; And so on. You get the idea.
RestartItem.Command=restart
RestartItem.Name=Neustart
RestartItem.Icon=C:\KOPIER.PRG\XP EXIT + REBOOT\ICON085.ICO
ShutdownItem.Command=shutdown
ShutdownItem.Name=Herunterfahren
ShutdownItem.Icon=C:\KOPIER.PRG\XP EXIT + REBOOT\ICON086.ICO
TaskbarSettingsItem.Command=taskbar_settings
TaskbarSettingsItem.Name=$Menu.Taskbar
TaskbarSettingsItem.Icon=shell32.dll,40
TaskbarSettingsItem.Tip=$Menu.TaskbarTip
ClassicSettingsItem.Command=menu_settings
ClassicSettingsItem.Name=$Menu.ClassicSettings
ClassicSettingsItem.Icon=ClassicStartMenuDLL.dll,103
ClassicSettingsItem.Tip=$Menu.SettingsTip