I found a fix!
Check this out: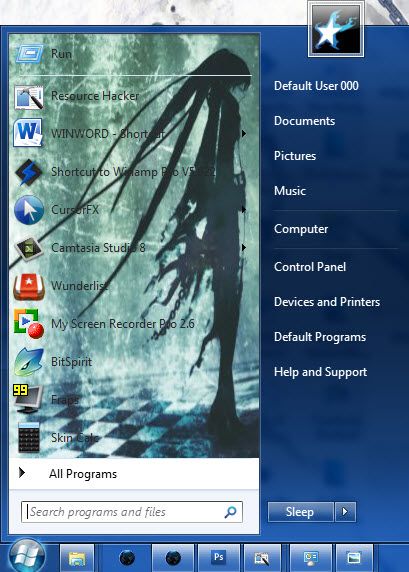 Its really simple:
1st use resource hacker and open up the aero.msstyles file
Go to "IMAGE" file 872 (This file can vary from theme to theme!)
export it
And edit it in Photoshop. Just as Benjamin Hall said your image that is going into the white area of the Start Menu must be the same resolution as the size you have on your desktop; now this can vary depending on the display resolution you use (even for the same image).
***Note***
You are going to have to play around with layers in Photoshop until you have your picture in between the transparent bars on the sides of the image.
When you have your image (with the right resolution and positioned correctly between the transparent bars) you'll need to crop it then its ready to be replaced using resource hacker.
2nd Open up resource hacker and replace the "IMAGE" 872 file with your new PNG.
Save the msstyles file
3rd Go into the folder of the theme you are using or modfiying. Take the new msstyles file you modified using resource hacker and replace the old one.
If windows keeps saying that the file is in use use "Unlocker" and unlock the file so you can replace it.
4th Switch the theme to any other one you have and then switch to your new theme and the custom start menu should be there!