... a USB 2.0 EHCI host controller
What was happening was I was getting CPU usage spikes on a single CPU core. Every 40 seconds or so it would spike to 100% on my 4th CPU core (using xperf I could see this was only about 4 to 6 tenths of a second from start to finish, but still not right). I finally narrowed it down to an audio issue, then finally down to a USB only audio issue. This happens with any USB audio device. I have two different headsets, one uses Microsoft Generic USB audio drivers and the other uses Logitech G930 drivers.
Then I found this hotfix:
There is high CPU usage when using a USB audio device connected to a USB 2.0 EHCI host controller
I thought my prayers were answered. Turns out this hotfix only helped it by ~50%. This hotfix has made my 4th CPU core spike to about 50% instead of 100%, it is better than nothing, but I am still not satisfied.
I have tried everything that I can think of but a fresh Win7 install at this point (which I would like to avoid, and I think the problem would remain anyway). This includes disabling all enhancements in audio properties, reinstalling drivers, updated firmware, BIOS, "clean boots", disabling any and all anti virus/anti malware/antispam/anti-whatevers, disable firewalls, using no other USB devices, removing ghosted devices, checked event viewer for problems, used Malwarebytes and SuperAntiSpyware in safemode to search for problems, etc...
Also, if it helps, this problem does NOT happen if I am not playing any audio. Also I have noticed when playing audio alone, it will only spike to about 25%, but when using input from a USB mic as well, it will go to 50%. Seems that its doubled when using input and output. Ventrilo is very good at aggravating this problem, when connected to a Ventrilo server I will get a spike almost exactly every ~40 seconds. Please note that the spikes do not coincide with audio input/output usage, they are almost like clock work every 40 or so seconds regardless of how much audio traffic is going on.
One more thing to note is that when I change the USB headset to different USB root hubs, the same problem happens, BUT it will spike my second CPU core instead of the fourth. I don't think this has any thing to do with it, just putting it out there. The problem also exists when I plug into a USB 3.0 port.
I believe the parent file causing the spikes is audiodg.exe, and specifically audioeng.dll and audiokse.dll.
Here is a screen shot of Process Manager, this shot is at the tail end of a spike. It's very hard to get a screen shot of it using more CPU because it happens so fast: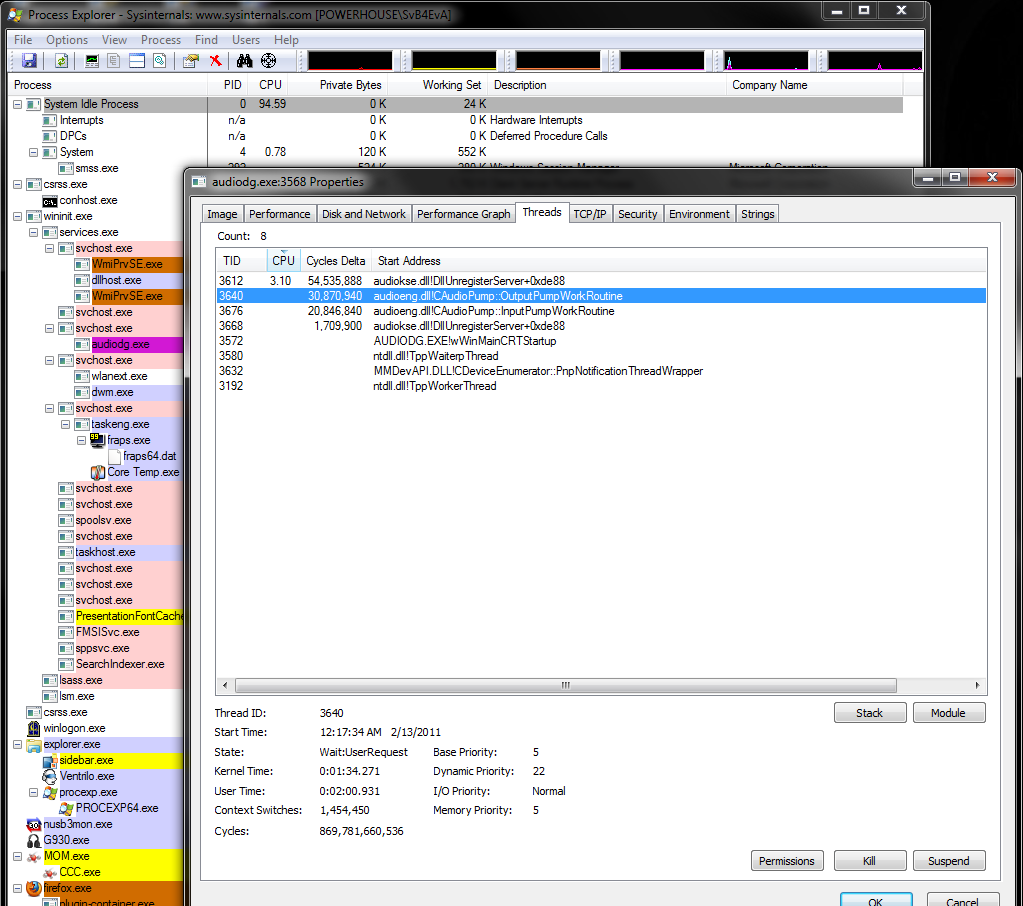 Here is a shot of a gadget on my desktop that is a CONSTANT reminder. Also oddly enough its doing double spikes now that you can see by looking at the orange lines:
Can anyone help? I am at my wits end with this.