This is what I written down for Gigabyte Tech Zone but I don't want to wait a month or 2 for the reply.
I used to have used Vista 64bit before with Hard Drives in Raid0 and I am trying to load Windows 7 64bit with just 1 hard drive. In the Bios I have disabled SATA RAID/AHCI Mode & changed Onboard SATA/IDE Device to enabled & changed Onboard SATA/IDE Ctrl Mode to IDE. On boot it finds the Hard Drive but when I install it gets to the Load Drivers section and when I scan or Browse for the drivers it doesn't find any drivers for it using all the Gigabyte drivers that are loaded on a USB thumb drive (latest Gigabyte Windows 7 drivers included). I imagaine it is probably looking for the Intel ICH9R/ICH10R Driver or Intel ICH9R/ICH10R SATA RAID Driver or the Mass Storage Drivers and as there were no Windows 7 available on Gigabyte I tried the Vista ones with no success. Could you advise what is needed to get it running again. Whether I missed something it the BIOS etc.... Thanks
Drivers are loaded on a USB Thumb Drive but I did try a floppy disk at one stage but may not have had the correct drivers on the floppy drive. The USB Thumb Drive had all Vista & Windows 7 Drivers available on Gigabyte Website on it.
Also if I use any of the Vista 64-bit drivers it comes up with the warning as follows:
To continue installation use the 'Load Driver' option to install 32-bit and signed 64-bit drivers. Device Driver is not supported and might result in an unusable Windows installation.
I am just not sure what driver it is looking for, as none of the new Windows 7 drivers from Gigabyte website are useful. Thanks
OK, I just found that it is looking for mass storage driver for installation and looking where i want to install it to. It could be that the system is still looking for a RAID ARRAY drivers as I think in boot up it still says there is no drives for the RAID ARRAY but I am not sure as it is so fast I cant even pause it in time.
I did redo the RAID setup in the BIOS and then went into the RAID ARRAY setup and deleted the RAID0 setup there. Then I tried to load the Mass storage Drivers again when installing Windows 7, but still no luck.
This is basically as far as I can get and there is no Hard Drive like there is shown in this picture, so this leads me to believe I need to still dispose of the RAID ARRAY setup from the previous Vista install in the BIOS possibly. But I am not sure what to do as I thought I would just Disable RAID in the BIOS.
(picture courtesy of Brink Administrator Windows SevenForum)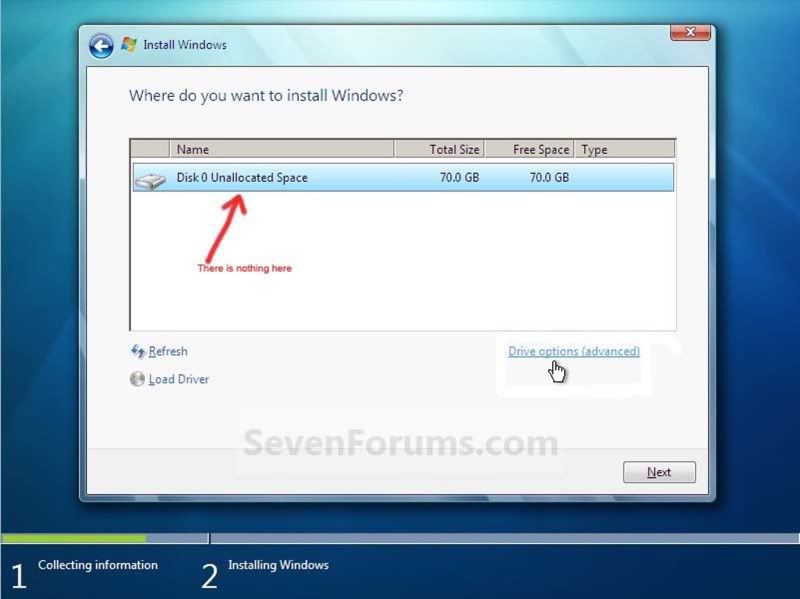 System Specs
OS : Window 7 64-bit
CPU : Intel LGA 775 2.83Ghz
Motherboard : Gigabyte GA-X48-DQ6
Memory : G Skill 1066Mhz DDR2 4Gb - 2 x 2Gb Dual Channel
Graphics Card : ATI 3870
Sound Card : Realtek ALC889A codec
Monitor Displays : Dell 24" LCD
Screen Resolution : 1920 x 1200 pixels
Hard Drives :Samsung 750Gb
PSU :Thermaltake 850w
Does anyone have any ideas on what to do. Thanks