So i am having a similar problem as that one
Reinstalled Windows 7 > No sound > BSOD after audio driver install
. In this post someone said to go to BIOS and check audio settings, i did went to my
BIOS
and i had my audio disabled so i enabled it, but it still doesn't work. I've just reinstalled Windows 7 Ultimate 64 bit and was trying to install drivers from the motherboard manufacturer website. I have no sound and when I try to install the latest
Realtek drivers
, I did get a
BSOD
right after. Yes, i said DID because i found a
Microsoft update
specific for it and now i just get error in windows. From what i understand the driver from
NVIDIA
is no for sound, but video and even if it is for sound i remember having both
Realtek
and
NVIDIA
last time when my windows 7 worked.
So i have a driver installed for my graphic card and when i installed audio driver it does not show up there, but i don't know if it supposed to. So i found out that is have to go to
Add legacy hardware--> Advanced-->Sound-->Realtek
, and than go through the procedure. Before i installed the
Microsoft update
i would get a
BSOD
here, now i get this
So i restart my PC just to see if anything changes, but no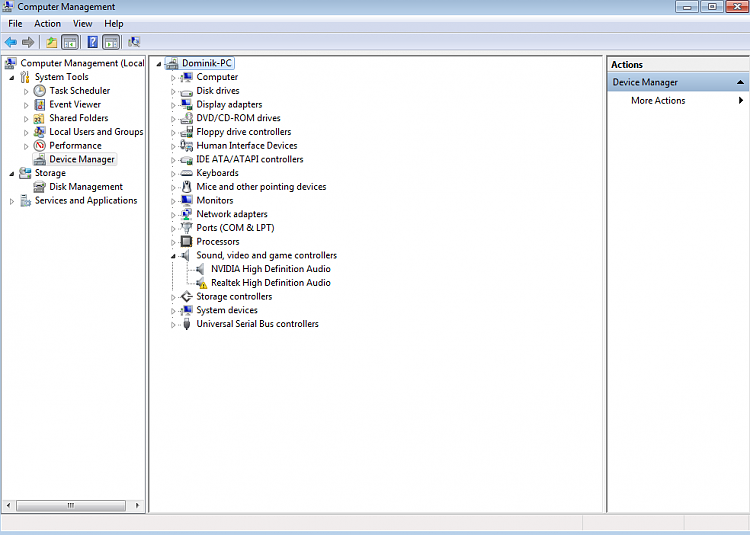 Now when i go to my software that detects my drivers and do i need to update them it says YES for the audio
Realtek
, but when i do it i get
BSOD
. Now something that i think is important to note, when i installed the drivers in safe mode they did work and by "work" i mean i can see all the staff that should be in that section for audio in
device manager
, i don't know if it actually works because i don't know how to enable sound in safe mode and i also think that i would have to set up my headphones.
P.S.
On the other post, the one that i put the link to at the begging, i also post this message, but i didn't realized that is was marked as resolved.