Yes AMD says/Have-to-say only win10 is supported, since AMD is a Microsoft Partner...
with Ryzen 3000 you have the same issue you had with Ryzen 1000/2000 on windows 7
Windows 7 lacks Ryzen USB 3.x Drivers, in the case of Ryzen the usb controllers are inside the CPU itself...
The solution was to use a PS/2 Keyboard & to install the chipset drivers which do support Windows 7 (Ryzen 1000/2000) Or Slipstream USB3/nvme/xahci drivers into Win7 ISO b4 installing (using ASUS EZ installer & Gigabytes Windows USB Installation Tool)
ok what about installing a Ryzen 3000 on a B350/X370/B450/X470 motherboard (ofcourse after you update bios)??? again the USB 3.x controllers are inside the CPU but this time, there are NO ryzen3000 drivers for windows7!!! is there a solution???
Here is the answer

I '''fixed''' Windows 7 USB support for Matisse / Ryzen 3000 on X370 / X470 (and others too). Here'''s how to do it: : Amd
alright, now what about the Ryzen 3000 + x570 Mobtherboards! on win7???
I have great news for you! it is possible! but the above solution wont work, or may not be enough
Here what you will need:
1. PS/2 Keyboard/Mouse (If your x570 motherboard does NOT have a PS/2 you will need to buy a PCI express x1 to USB 2.0 adapter) there is absolutely no need to use USB3.0 adapter EVEN if you have USB3 installed or slipstreamed! just use USB2 it will 100% work without any drivers... that adapter is cheap

2. after logging into Winows 7 you will need to install the latest AMD Chipset Drivers from AMD's Website
there is a note here! on ASUS website they say this:
Version 1.7.29.0115
2019/08/0249.87 MBytes
AMD Chipset driver
- Fixed Destiny 2 application launch issues.
- Updated AMD Ryzen Balanced power plan
- Update AMD chipset driver 19.10.xx first before update this driver <------- so you may need to install 19.10 before latest one!
3. after installing AMD Chipset Drivers now we need the modded Drivers

all that was needed is to change the Device id's & it will work flawlessly, any skilled one can do that!
just like installing Mouse Drivers like Logitech's Setpoint Drivers for your non-Logitech mouse which are far superior to windows7 native drivers from 2006!!! both have different id's but it will work flawlessly! (i'll make an article about this later)
Now there is a very kind person from Win-Raid Forums &
SMXDIY
canonkong
who made all this for you

you can download all the modded drivers for Ryzen3000+X570 for Windows7 here
Forum - [Solution] Win7 drivers for USB 3.0/3.1 Controllers of new AMD X570 mainboard.
from the picture he shared of what seems to be an x570 motherboard with Ryzen 3700x there are no Yellow (!) marks, which means all hardware/devices are recognized by windows 7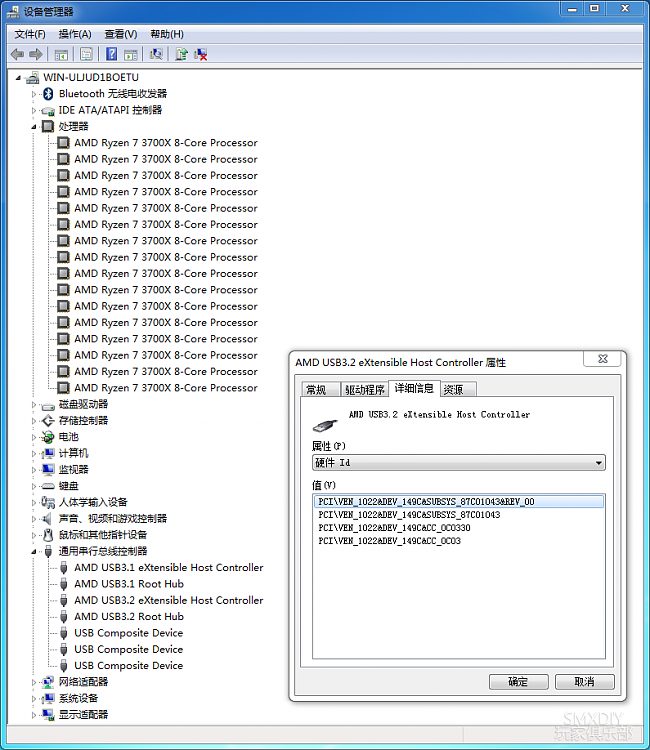 Will there be BSODs like those that plagued Ryzen 1000 & Ryzen 2000 at the beginings on win7 & earlier builds of win10, which seem to have been fixed with Bios + Chipset Drivers + later win10 versions
What about win7??? do people still get those PCI BSODs?! i really don't know the answer because i don't have a Ryzen system, It will be my next system & i plan to still use win7!
I have a friend who returned a Ryzen 1000 system & purchased an older intel system because of those frequent BSODs...
I hope it's not the case now...
So, can you u Enjoy the latest Ryzen System capabilities while still using Win7???
I'm very happy to say the answer appears to be yes :)
is it trouble free? no bsods or issues?
I don't know, I hope not! but time will tell, anyone here who purchased a x570 mobo + ryzen 3000 would help us alot by sharing their experience...