hmm. problem oppose the fact that you said ...last night i leave my comp maybe 3 or 4 hours... and i come start movie watch him... when i'm finished i try to start call of duty 2 and i was sow a lag a lot of lag... hmm alt+F4 barely .. and start task menager....what i see astonished me... 1,86 Gb of ram is on use... i have 2 gb of ram.. i don't know how is he start cod 2... cod 2 using maybe 300-400 mb... that isn't a prepare ram for start beter... now i need a solution for problem... how to disable that for prepareing ram to start beter... need help!

man i thx u boys a lot! cya
Your post is a little hard to read...but when you look at Task Manager there are a few things that you have to look at. For example, under Physical Memory...you will see a certain amount of Free Memory...but right above that you will see an entry for Available and Cached Memory.
Looking at the image below, you will see that while I only have 4MB free out of 4GB of RAM....I've got 2.7GB which is Cached and 2.7GB which is Available. Therefore, if I launched something which needed 600MB of RAM, Windows would simply use space that it's using for the cache and thus performance would not drop.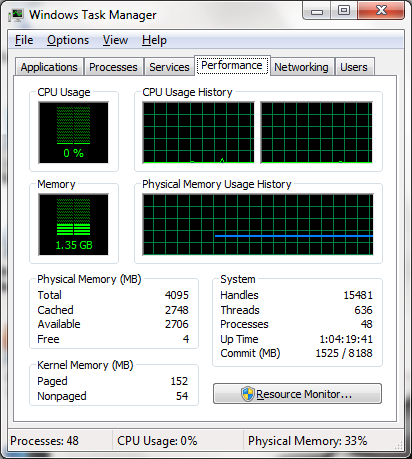 In your case, you could have an application running which has a memory leak and is actually "consuming" the RAM and thus your task manager would not show it as being cached or available...but rather simply in use. If this were the case, you would get massive lag launching other applications.
Hopefully that makes sense.