The VBscript version wasn't practical to use so here's a better version:
TextHider.zip
It contains the EXE file and all VB code, "hidden" in a txt document with password Tookeri. A nice demo of the purpose with this app.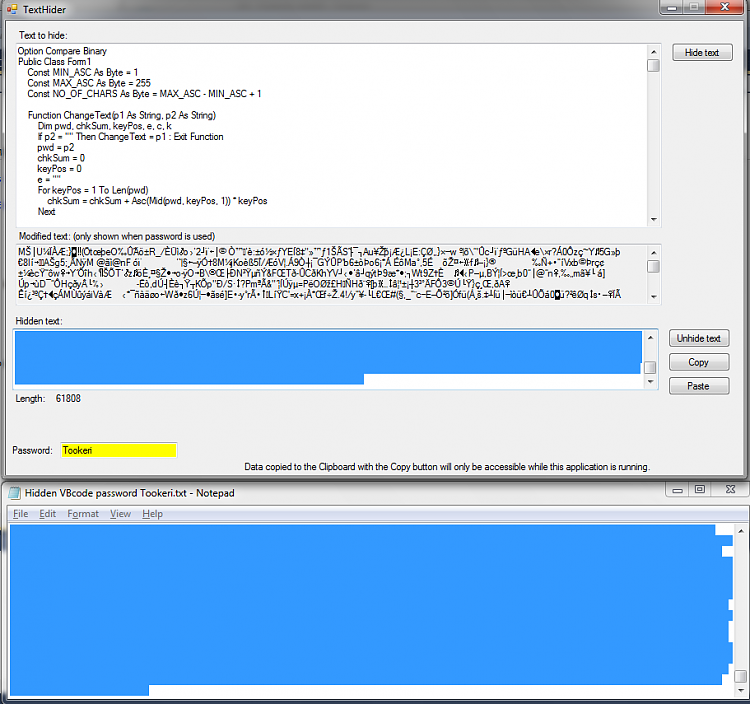 To hide text
1. Enter/paste text in the 'Text to hide' box
2. Set a password (optional)
3. Click button 'Hide text'
4. Press Ctrl+C or the Copy button
5. Paste somewhere, for example Notepad. To replace any previous text press Ctrl+A before pasting
To unhide text
1. Copy the hidden text from where you saved it. Tip: use Ctrl+A and Ctrl+C to copy all text
2. Click the Paste button
3. Set the password
4. Click the 'Unhide text' button
5. The unhidden text is shown in the 'Text to hide' box
Additional info
If a password is used the 2nd textbox(gray) will show the modified text (before it's "hidden")
Every char is converted to 8 0's and 1's representing the binary ascii code (incl. linefeeds, tabs etc)
So the hidden text will be 8 times longer
The 0's and 1's are then converted to spaces and non-breaking spaces (ascii code 160)
Text hidden with the VBscript in post 1 is incompatible with this version
The 2 kinds of spaces may look the same visually. Most programs can store the non-breaking space but you should verify that you can unhide the hidden text from where you stored it.