just thought id throw in a few more words before shutting down for the night (holy crap, its 1AM!!!)
ive been forum diving all day and it seems this issue is not new, nor has it been resolved in many cases.
the users afflicted range from Windows 7 users, XP users, Vista users to Windows '98 users. they are also getting this error with other download games from BigFish and other sites.
there are also a range of users who say that they only experience this issue on one OS and not on another OS. one person i spoke with said that their Windows 7 machine works fine but the laptop running Vista was getting the error. from my own personal experience, i didnt have this problem until getting Windows 7, and my moms laptop currently running Vista Home Premium also has no issues.
i found this interesting solution on one forum, and while it has worked for a few people, its not solved my issue:
actually for me, this was already set that way and i made no changes :P
i tried downloading games from BigFish. the games download fine, and the game manager installs and opens ok. the game manager then downloads and installs the games, which finishes ok. however, when the game manager says its in the activation process this error pops up, and pops up repeatedly (even when one error window is still open):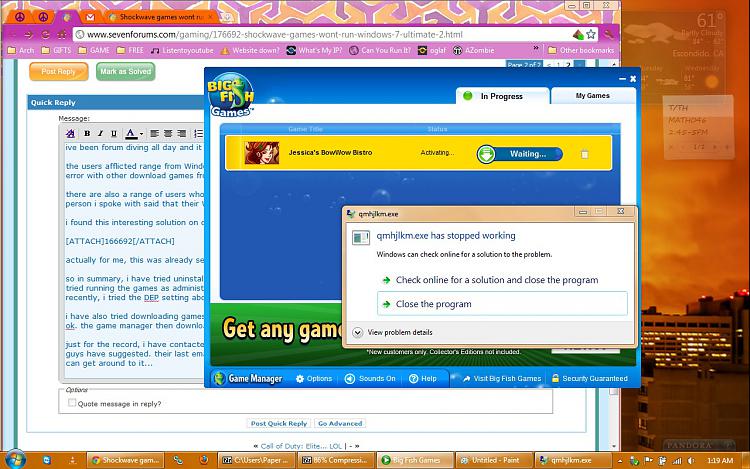 i wait for the activation process to finish and when the 'play now' option appears and i click it, the same error appears, and the game will not play: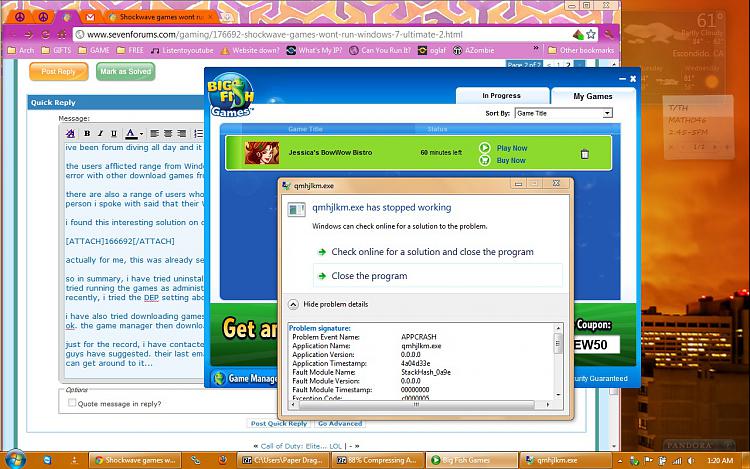 sorry if im being redundant, i just want to cover all the bases.
i have contacted Shockwave. the solutions they replied with are just reiterations of everything you guys have suggested. their last email simply said that this issue has not been solved and they dont know when they can get around to fixing it...
i also want to clarify that its not the browser games im having difficulty with. i have no issues loading games or anything in my internet browsers. its the games downloaded, install onto my computer and run from my games folder that are being troublesome.
so in summary, i have tried uninstalling and reinstalling DirectX, Shockwave, Flash and the games in question. i have tried running the games as administrator and i have tried running them in several compatibility modes. and most recently, i tried the DEP setting above (actually didnt change anything but its worth mentioning).
while some folks in the forums i have visited have found these methods to successfully solve their problems, other threads merely die out with no resolution. i understand that if this issue has no real solution at this time, that it cant be helped. i wont give up, it just means ill have to find ways around it by using other machines and occasionally trying again with mine.
in the case that this thread does die, i just want to thank you guys for your help! youve been really understanding and patient with me (some people on forums are just plain mean </3) and i really appreciate it!