sorry everyone, i had to step out for a little while...
JaidynM:
sorry about that, i totally forgot to add my specs. ive filled out the info to the best of my ability. however, i had a bit of a problem figuring out how much RAM i have: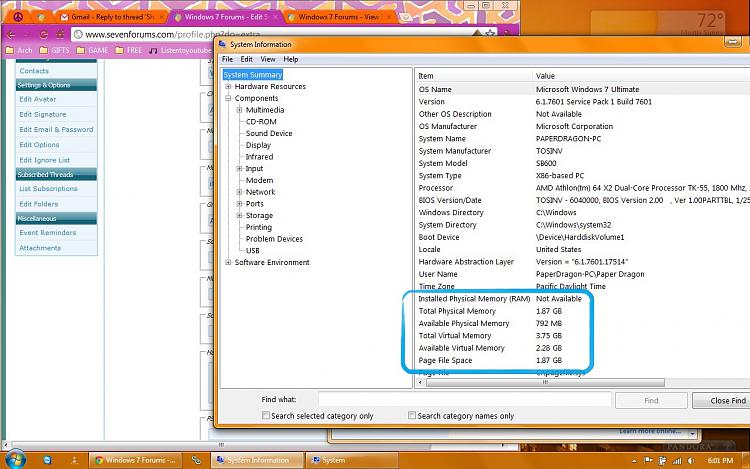 as you can see it says 'not available' for installed RAM... i know the laptop was sold with 2GB or RAM. now im about to be very unhelpful, please bear with me xD about 5-6 months ago my boyfriend helped me add a new card and i cant remember if it was 1GB or 2GB. so the total RAM should be atleast 3GB. the guy at Fry's said my system wouldnt recognize anything over 3GB and i didnt really understand what he meant by that, my boyfriend did all the talking :P anyway, i would look but ive never opened the computer before and im hesitant to do it by myself... if its really necessary i could shutdown and try but i wont unless i really really have to xD
in regards to Direct X, i believe i have the latest version:
also something i found in DxDiag: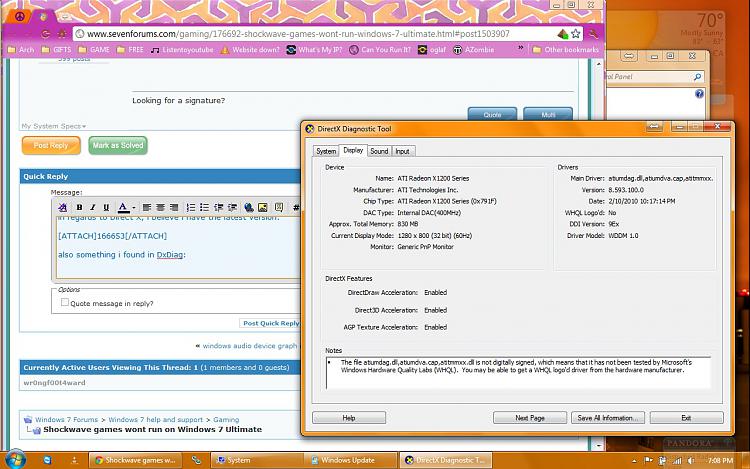 when i was still using Vista, a friend showed me how to use the Catalyst Controller to make my screen brighter so i could see in super dark dungeons in Diablo II
while playing a few weeks, ago i realized it was gone. after some snooping i learned that Windows 7 doesnt particularly like my Video Card. so i did some forum diving and found something marked for Windows XP that works alright for me. this is the Catalyst Controller i have now: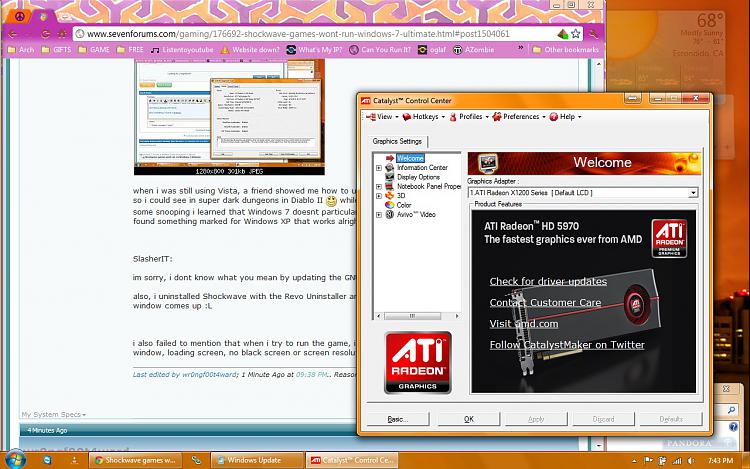 SlasherIT:
im sorry, i dont know what you mean by updating the GNU. could you clarify?
also, i uninstalled Shockwave with the Revo Uninstaller and then reinstalled Shockwave, but the same error window comes up :L
i also failed to mention that when i try to run the game, i see no signs of the game trying to boot up (game window, loading screen, no black screen or screen resolution change).