OK, I'm officially bored with the game. I'm currently a level 51 Dark Elf with a destruction, and light Amor skill of 100, two handed skill of 90 and blah blah blah.....
Anyway I've read posts where people have basically cheated their way to a stronger character by using tricks and tweaks to create stronger weapons, armor, and potions. Why??? I really can't see what this brings to the game because at level 51 I've yet to find any foe capable of seriously challenging me, even when I was at level 48! My character was already too strong once I hit the mid 40's.
Right now the only armor I basically use are those obtained through the Thieves Guild quest - Nightingale or the Guild Master armor (use for perks like sneak and weight increase). Anyway the Nightingale armor is pretty high in protection - 300 plus. Couple it with a nice powerful sword and some destruction magic and that's all she wrote. BTW I haven't even done the Dark Brotherhood quest so who knows what kind of armor there is there!!!
Then there's the constant Dragon attacks - I've got 20 Dragon Shouts (unlocked) and 36 dragon souls. Geez, enough with the dragons!!! Especially around Winterhold College. Damn, I've killed at least 20 of them in that area alone. In fact they're becoming so prevalent there that I just ignore them by staying inside the colledge for 24 hours until they're gone.
Anyway great game but after a while it just becomes repetitive, and unchallenging after 255+ hours.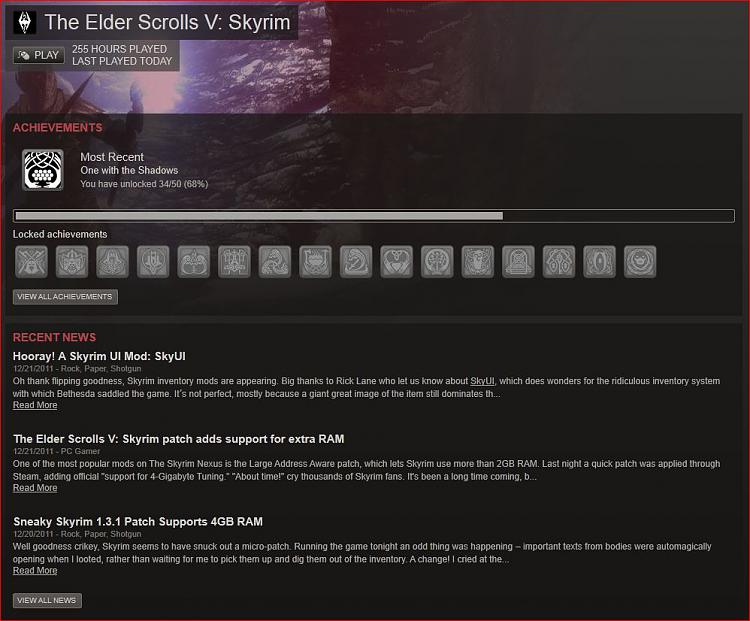 Note that some of my stats haven't unlocked as posted here -
Discuss Skyrim
I know there's still tons of stuff to do in the game and I'll continue to play, but not at the pace I was earlier. Time to find another game.
Peace