After hearing all the complaints about FO3 not working with Windows 7 I thought I'd give my retail copy (Fallout 3 GOTY (Game Of The Year) Edition) a try. And thus far, after playing for an hour, no issues. This is on a Win 7 machine. Click System Specs link to see specs.
A few things to note…
Not sure how the steam version goes (i.e. if it also uses GFWL) but if you're playing the retail version, it
DOES
require that you have a Game For Windows Live (now Game for Windows Market Place) account! So if you're running the game without either of those game managers (GFWL, Steam), the game is hacked, and it will be problematic!!! That said, for the retail version…
- Install the game…
- Install the latest patch - 1.7 which you can get here -
Bethsoft.com - Support
- If you have a GFLW account, login (if not, you'll need to create one)….
Once you login, you'll be asked to provide the game's product ID….
Once done, your profile will begin downloading, and the game may also ask to be allowed through your firewall.
From here all should be good, and the game should be automatically updated,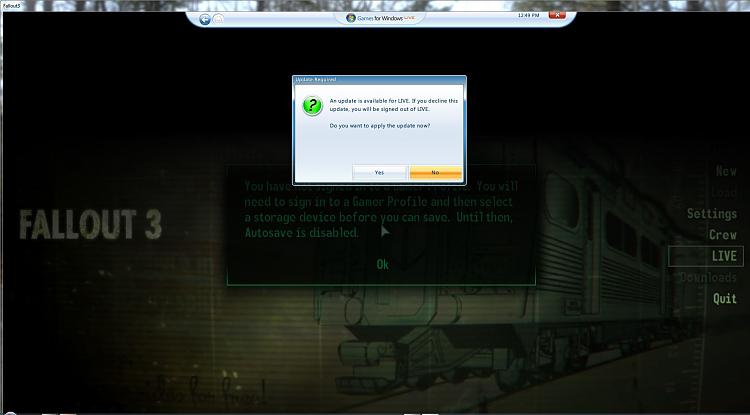 but…. GFLW can be a pain in the ass and you may get this….
even if you have the latest version of GFWL – (which should be Games for Windows Marketplace) installed!!! What I did…
- First, make sure you're signed out of GFWL (Marketplace)
- Then, as I mentioned earlier, patch the game, then…
- Search the disc and find the redistributable g4wl exe and install
After that, launce FO3 again, sign into your Live account, it should properly update, and you will probably kick you back to the desktop once done. Simply re-launch the game, login to your live account, and all should be good. Play the game.
Yes, I realize this may not solve the issue of FO3 and Windows 7, but with the above procedures, for me, all is good. You just need to make sure you have a legit copy that can be activated. And you need a Live account (though I'm not sure about Steam).
Good luck.