Just noticed my post got merged with a thread about Steam OS. It really shouldn't have been because the Steam Controller is actually its own thing and a separate topic. No big deal, but the controller is a separate entity from Steam Machine and not really tied to the console or Steam OS directly.
It's compatible with Steam Machine and Steam OS and will come packed with the console, but it's actually being developed separately and is intended as a PC controller and you don't need Steam Machine or Steam OS to use it.
It natively emulates the keyboard and will work with any PC game. As I understand it the controller can be programmed any way you want using software similar to Xpadder that comes with it. It will also come with presets for every Steam game available.
It's supposed to provide more control options than a standard gamepad and provide as many options as a mouse and keyboard control scheme in a handheld gamepad.
Supposedly the trackpad and feedback make it about as accurate as a mouse for aiming and provide more fine movement than an analogue stick. It uses some sort of electromagent feedback system that is supposed to have such a high frequency that the two touchpads could actually be used as speakers. Valve claims that the technology can be used to simulate the feeling of using a dpad or buttons using the touchpad providing the feedback that current touchpad technology lacks to improve functionality and accuracy.
It sounds pretty epic and may replace my current Hydra and Naga control scheme if it does everything it claims to do.
I am a little skeptical of the trackpads. They're supposed to be super high quality and the feedback is supposed to aid with accuracy. I've had experience with touchpads on laptops though and they kind of suck for games. I think a lot of that has to do with placement and the fact that a lot of them are cheap and not extremely responsive. Not to mention the lack of any sort of physical feedback makes them less accurate than a mouse.
If this thing pans out, it could be epic and change the future of gamepad controllers in much the same way as the PS1 Dual Shock controller did. If it performs well enough I could see console versions of this thing popping up easily. However I don't expect we'll see that for a little while if it does happen.
One change I'd like to see is a closer grouping of the XYAB buttons. I'm not sure how well having them on the corners of the touchpad will work. I'd like to see them close enough that they could be reached easily with a thumb for example. There are enough other buttons that it may not be an issue though, so it may not be a real concern and just something that only seems like it might be better at first glance.
Here's a better image that's closer to what the final model will look like. As I understand it this is basically complete and the Steambox beta testers will be getting them with the consoles. According to the official page there are sixteen buttons on the thing, plus the trackpads and touchscreen. Half the buttons are accessible without taking your fingers off the trackpads.
Steam Controller
It's still far enough away that there may be other changes to the design, but the images in this post are probably pretty close to the final version.
As far as I know they haven't nailed down a release date for this thing yet and only suggest that it'll be sometime next year. No official price point either.
I'm kind of a collector of peripheral oddities so I'll probably end up getting one, but it does have the potential to be the next big thing in controllers. I'm also a bit skeptical of that. We don't know if it will actually do what Valve claims at this point, but if it works as currently advertised it could be the next big evolution in gamepad technology.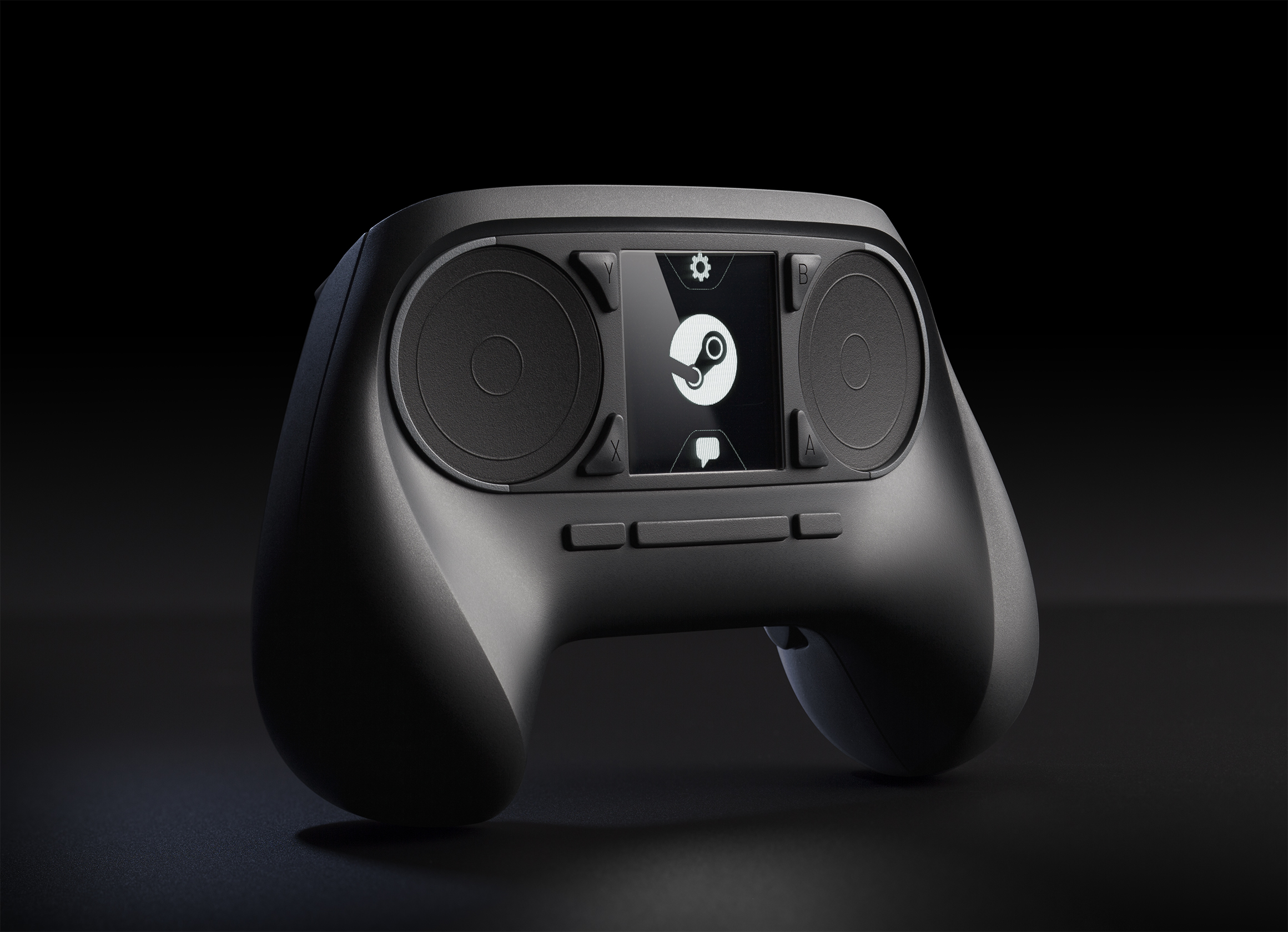 I honestly doubt I'll buy a Steam Machine, but I'm pretty sure I'll have one of these. I've already got my PC hooked up to my television anyway and my PC is by far more powerful than it has any hope of being. My Steam games run better on my PC hardware to begin with and I've no use for a device that streams games from my PC to my television anyway. I'm already running Linux anyway along side Windows 7 and Windows XP on separate HDD. There's no good reason for me to care about the console. This controller is another matter though. It may end up just another oddity in my collection, but could turn out to be an epic gamepad as well.