I had EXACTLY the same problem when trying to pass parameters to perl.exe. In Windows XP, I could associate Perl extensions with:
Script:
C
:\
strawberry
\
perl
\
bin
\
perl
.
exe
"%1"
%*

which passes all command-line arguments from
foo.pl
to
perl.exe foo.pl
. In Windows 7, there is no UI for advanced file associations options, but I found a freeware utility that provides one:
NirSoft FileTypesMan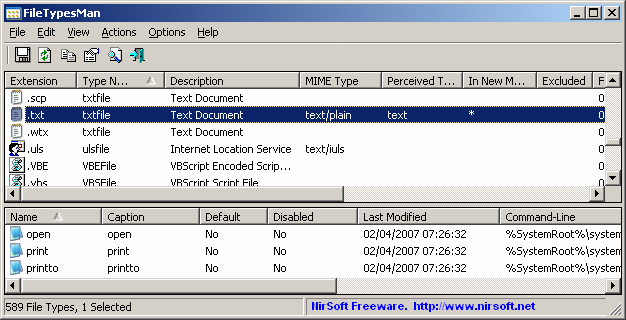 This solves a problem that bugs a bunch of Perl users -
https://rt.cpan.org/Ticket/Display.html?id=66039
PS: To the person who said,
Quote:
To be honest, I don't see a point in having it, unless you want to have one default program to open the file and another program to handle the default printing. But I don't see what difference does it make, which program handles the printing, as long as the file gets printed.
That's a very narrow viewpoint. Maybe you want one program to launch a file (e.g. an interpreter) and another one to edit it (e.g. an IDE).