Since I never read any manuals, I am often not aware of the small tricks of the trade. I just discovered a couple of small tricks - that most of you probably know. LOL - But for those who don't know,I like to share them.
1. When the system freezes and you cannot move the cursor, I used to hit the power-off button and then restart the system. The little trick is to press the Start button on the keyboard and navigate with the right arrow key to where the picture shows: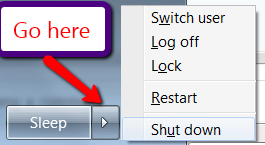 As you can see, there is always one letter underlined for the various actions in the pop-up window - e.g. "R" for Restart. Just hit that letter and the action will be performed.
2. If you open a window and it is not maximized, grab the window at the top blue frame and bump it against the top of the screen. It will automatically maximize.