Before we go any further,
have you made any changes to the system
that might be relevant? For instance, Have you changed
Program Data folder location, user files, etc.?
Try to remember any changes you have made to the system that might be relevant.
Also, can you please post a screenshot of your Index Options/Advanced Options dialog so that we can verify the index location (see screenshot)? Also, please upload images and files to
this site
rather than media fire, as per this tut:
Screenshots and Files - Upload and Post in Seven Forums
You can use the
Snip Tool
if you like.
Here's the screenshot example of what we'd like to see: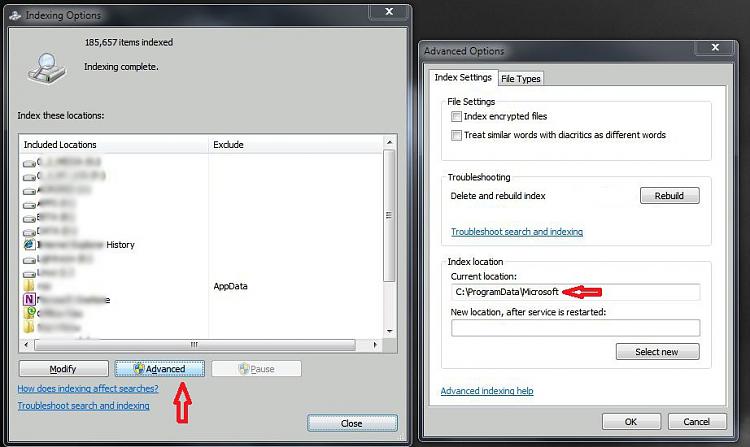 Now, as you've noticed, SFC found errors. This may be corrupt system files or it could be changes that you've made to system files (i.e., work-arounds, hacks, fixes, etc.). You should run SFC/scannow as per the tutorial here:
SFC/Scannow
, or via the link Brian posted (
command line scan
).
Read the entire tutorial before you begin. As it states, you may have to run it multiple times. If you
have
made modifications to system files, this process will revert them to the system defaults, so you will lose those changes (you can reinstate them after your Search issues are resolved). This will not revert any moved user files, folders (i.e., Program Data) to their original location (again, please let us know if you've made such changes).
If, after running SFC Scannow 3 times, the 'integrity violations' are still not repaired,
then
upload your CBS.log file (to this site) so that we can have a look.
James
Edit (Important!):
J
ust to verify,
you have tried checking in another user account and verified that an index is built/being built and that search items are returned?
Also, another helpful link:
Search and Indexing Troubleshoot Shortcut - Create