Hello everyone, my name is Randy and I found a lot of useful information on here - I hope I'm posting this in the right section, if not please move.
First off, I'm not a super computer guy, but I get by lol -
I bought a Dell last year, with a dual hard drive - For w/e reason everything installed on my much smaller C drive, while I have 400GB free on my D drive.
I realized much too late, I needed to "extend" my C drive - So I copied everything off the D drive, and deleted it to free up the space I needed - Then I tried to "extend" my C drive and its greyed out and won't let me -
Here is a screenshot -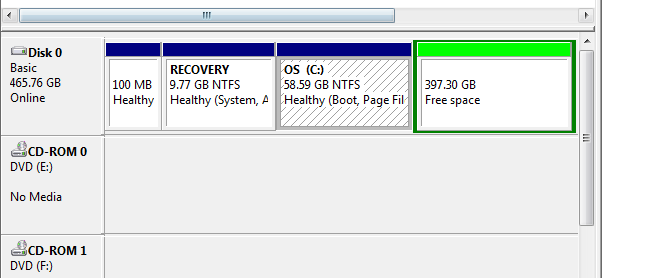 Now looking around the net, it seems this is an issues with some models. I see some people are suggesting a 3rd party partition program to deal with this issues. My far is, if I mess up will I break my comp?
Is the software easy to use? I don't mine paying for software, or even paying someone to do it for me even - W/e would make this as painless as possible would be great -
Anyone care to make some money and help me through this? :)