Hi guys, I need some help here.
When I start up my PC, the "Windows Error Recovery" message appears on the screen prompting me to Launch Startup Repair or Start Windows Normally.
When I choose "Start Windows Normally", I am unable to progress beyond the windows loading screen (The windows boot animation doesn't even appear, just the words Starting Windows). Then this error message appears -
I tried to restart windows and launch startup repair from my installation disc, but it fails -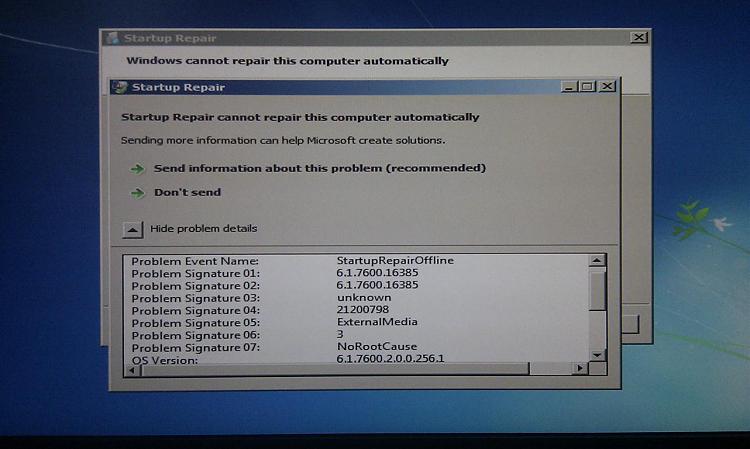 For the past few days prior to yesterday, my PC was working just fine. Then all of a sudden, this problem popped up.
I haven't replaced or removed any hardware.
All my BIOS settings are at default.
I've tried changed AHCI to IDE.
I've tried booting with one memory stick on different slots.
I've run Windows Memory Diagnostic but no errors were returned.
I've tried connecting nothing but my Super Talent Boot Disk in.
So I am at a loss here. Naturally formatting and reinstalling Windows would be a last resort, so I've turned to you guys for help b4 I do anything else.
Anyone free to help a poor bloke like me ?