Hi all
I recently built a new machine and installed Windows 7. Install went flawlessly and everything has been working great.
Now that I have most of my software on the new machine I attempted to make a clone of my c drive (1 tb samsung spinpoint) to an identical second drive in my machine.
However, when I looked I did not have a second drive listed as a installed D: drive in my windows installation. Both new drives were installed straight out of the box before the OS was installed. Check out Disk management screen shot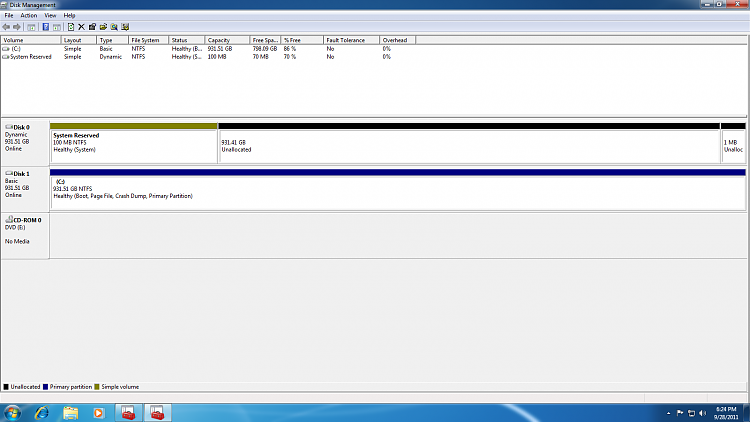 As you can see my bios and windows see there are two physical hard drives installed, but for some reason it split the system volume data from the rest of the OS data. It places them on two separate hard drives.
The problem with this is I typically clone my c drive onto my d drive to serve as a complete bootable backup of my main drive. In its current state, if I clone my C drive onto my second physical drive I will wipe most of my windows install.
Therefore I am looking for help in getting all the data on one drive without doing a complete reinstall. From my simplistic perspective it appears all I need to do is make a D: partition on Disk0 and transfer the contents of the C: drive(disk1) to the D: Drive(disk0).
I have attempted this but some files would not transfer because they were in use. I was also concerned with disk0 boot issues using this method. Also with this partition (disk0) labeled disk D: wouldn't that cause boot issues?
At any rate, I am looking for any suggestions on the best way to correct this issue.
Thanks for the help
Foz