Update: see next post
Hi there,
First, if this question is in the wrong place, please do point me to the right section.
If you take a look at the screenshots of task manager below, you'll notice something odd. I have a bunch of processes, all using 0% of the cpu. That makes sense, since the computer is not doing anything at the moment, so it should be 0. Then, if you take a look at the bottom of the frame, the total cpu use is shown as 9%, and that is shown again in the next screenshot. [as a note about the percent of cpu use: that is about the maximum amount a single threaded process can use on a 6-core processor with hyperthreading. That is like 1 folding@home client running, if you are familiar, although there is no such client running].
So, my question: Where is the cpu use coming from? It starts up like this about two minutes after logging in, and continues like this indefinitely, every time. My computer has not always done this though (it started a few days ago), so I'm concerned. System information in the spec link thing.
Any ideas would be much appreciated!
Thanks,
Frogger4
processes, notice they all say 0 under the cpu column.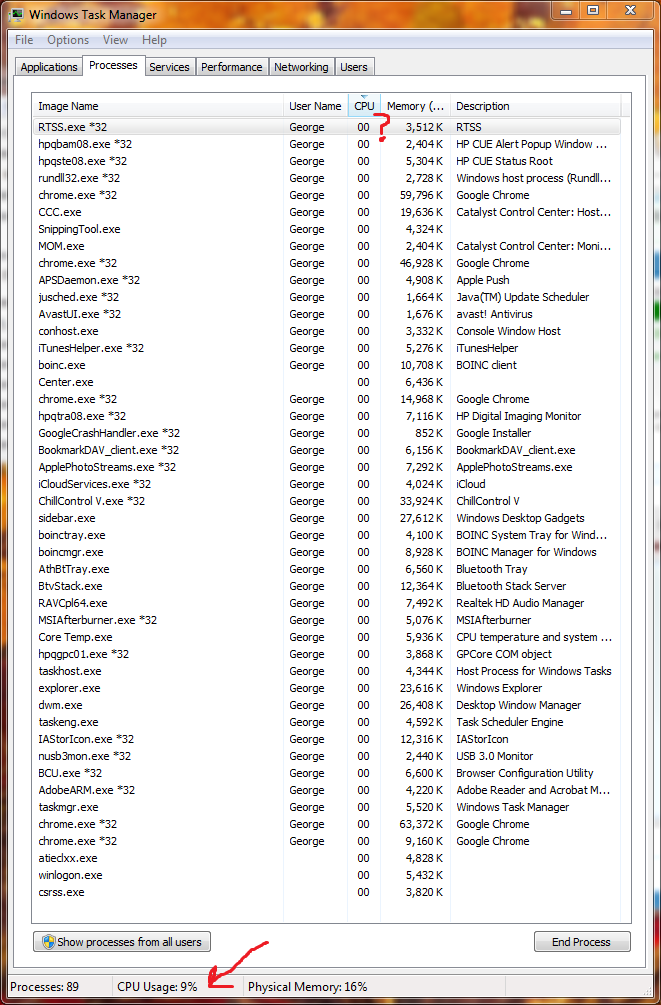 performance tab, showing that there is significant cpu usage over time.