In July 2014 I ordered and got an HP 15-D005TU laptop for my housemaid's son. It came with Windows 8.1 preinstalled. I did the initial setup and updated it. There was no bloatware in it and I only had to remove the obnoxious McAfee. Strangely I found the same duplicate entries in Windows Disk Management as reported by stevetmq. Though surprised, I didn't do anything for it was a brand new lappy and it was functioning well. There was no sign of any impaired performance. My maid's son carried it away to his college in two days and has been using it without any problems.

About a month back one of my relatives who resides nearby also purchased another HP15 on my recommendation and again I did the initial setup and updates. This laptop also has double entries in Windows Disk Management. And again it has been functioning well. Just a while ago I walked to his house to capture a screenshot but unfortunately his lappy is busy communicating with his daughter in U.S.A on Skype. May be tomorrow I shall post a screenshot.

Though I don't know why it is happening, it seems to be an innocuous glitch if at all . So stevetmq need not worry. He may perhaps take it up with Lenovo support and they may have an answer.
OK, here is the screenshot of HP15-R032TX Windows Disk Management as seen by me in the middle of October as soon as it was unpacked and the initial setup was done.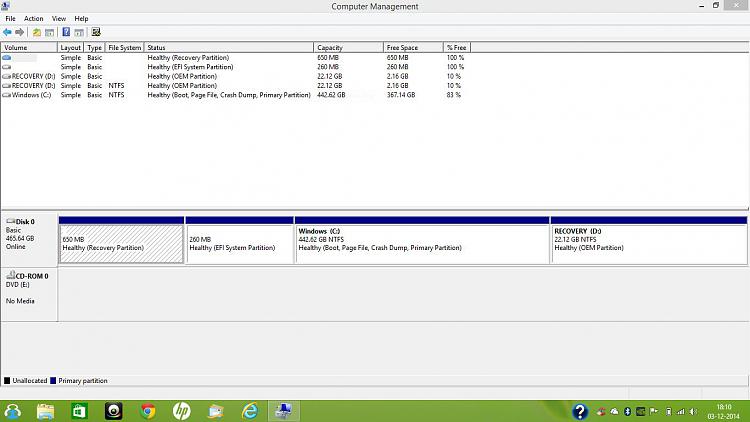 One can see that Recovery (D: ) is listed twice.
The Windows Disk Management was the same on HP15-T005TU which I ordered and received in July 2014.
As I said both the laptops are functioning well.
Since this matter has come up here now, I intend to get in touch with HP Support just to know whats cooking but for that I should have the HP15-T005TU - which is the one still on my name - on my desk. And that will be possible in the middle of Jan 2015, when my maid's son visits his parents here.
Whatever, I never bothered about it since both the laptops were brand new and didn't show any signs of impaired performance.
stevetmq should not try to fix something which is not broken, under any pretext and if he is still bothered he should only take up the matter with Lenovo Support . For all I know they may say it is normal. They may or may not give a technical explanation for that occurrence - that would depend upon the technical acumen of the person taking the call and how well informed he is.:)
( I am also not well informed on this

- I am only sharing my recent experience and my perception on it -but my guess is that UEFI,GPT and the way the recovery partition is created may be responsible for this double listing - neither the OS nor HDD can be blamed.)