If I run TRACERT (trace route) using the command prompt (CMD) to any website this is what I get: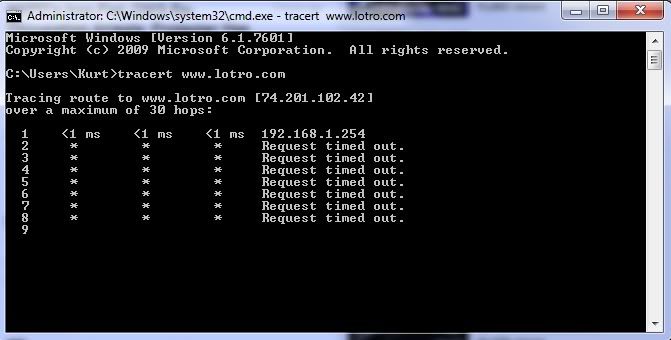 It does not matter what URL I try, they all fail.
I called my ISP and the agent said my line checks out just fine, then he said the problem must be on my end. I also wondered whether this kid really knows what he is talking about, because tracert is failing immediately. So, wouldn't that mean there is an issue with my internet? But as far as browsing and playing games everything works OK.
The agent also told me my firewall and security software (which is from my ISP) will not affect using Tracert. That rules that out I guess.
Now I am at a loss as to what is the cause or how to correct it. I found a microsoft help page that said you can reset your tcp/ip using a command at the C:/> prompt. I did this then rebooted but it didn't fix anything.
If there are any computer guru's around here that can help me solve this, i would be very thankful!
By the way, I use Win7 home ed. 64bit.
And i tried system restore to earliest restore point, then ran Tracert but it failed just the same. So, i did a restore undo and came to these forums hoping for help.