Hi there,
Thanks for looking.
I have just put together a system for a colleague. It was originally a Windows 7 Utimate on a 250 Gig disk.
I have just added a 1TB disk. At first upon boot up I had the dual boot option of both Windows 7 operating systems and everything was fine. The requirement was to have Windows XP Home installed on the 250gig. I did this while in the new Windows 7 system and rebooted. The dual boot option was no longer available and I could not boot the Windows 7 disk at all. I unplugged the XP disk after trying all the suggestions on Windows 7 Forum related to this problem and booted the 7 disk with the DVD, then carried out the Start up repair several times. It still won't work. I ended up reintalling Windows 7 on the 1TB disk while the 250Gig disk was unplugged.
They both boot now, but only separately and only if one or the other is unplugged. If they are both plugged in the last system to boot is the only one that will boot.
Setting disk priorities in BIOS does not have an effect on this.
The system is as follows:
Stock Case
500 watt PSU
Intel Core Duo Quad Core 775
Gigabite 775 Socket motherboard
1 x 4 Gigabyte Stick DDR3 RAM
1 x 1TB WD HDD
1 x Maxtor 250Gig HDD
Windows 7 Ultimate
XP Home
I will note that the first time I installed 7 it used the whole drive as apartition. This time around it has created a 100 MB partition for system on the 1TB disk. I have a screenshot of the system.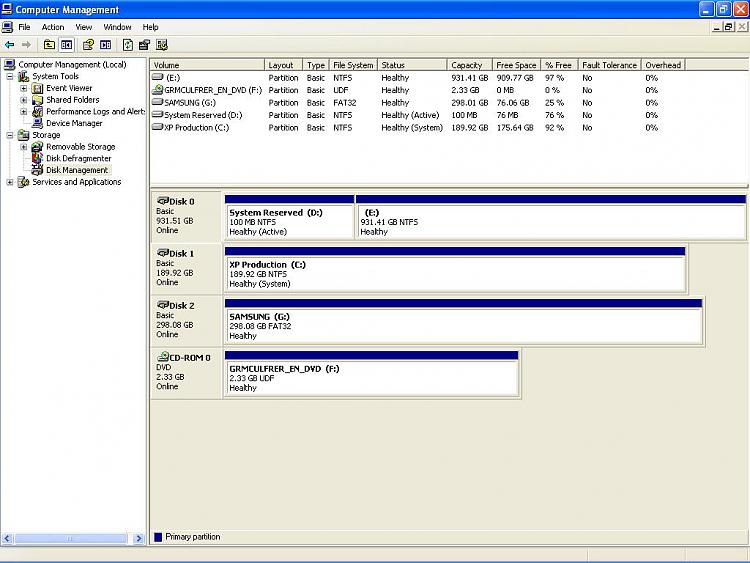 I have tried the DOS methods advised on various threads here including making the disk active actions. I just can't get the system to simply give me the dual boot option upon startup.
Can someone point me in the right direction?
Thank you very much for reading.
Peace and Regards,