To be honest, i'm not entirely sure how the problem began. Yesterday, I had just finished with my laptop at a local hotspot, so i put it into hibernate so that i could close it and drive home. Upon arriving at home, when i opened up my laptop and resumed windows, explorer.exe stopped working entirely. The entire computer froze. Couldn't ctrl+alt+delete or anything. After waiting about 15 minutes for it to respond, i had to kill it and do a hard reboot (never good, i know). Upon restarting, for the first 5-15 minutes, nothing responded. couldn't open task manager, couldn't do anything.
After a few attempts to restart and open anything, i finally got task manager to open. However, there was no text. In anything but the top menu bar (file, options, etc).
The tabs were all still there. The buttons were all still there, but the text was missing.
When i opened my internet options, the same held true. All the tabs and buttons were there, but had NO text. When i tried to go to system restore, the same thing waited for me. No text, but the buttons yet remained.
On top of this, I cannot open skype. I get the errors "The handle is invalid" and "The parameter is incorrect". I tried uninstalling and reinstalling. It made no difference.
The most perplexing part is that Mozilla Firefox still works just fine. All my options are still there in preferences. All of my games still work flawlessly. They have had no issues at all. Even iTunes still runs properly!
Oh, and before you answer, yes, i have tried going into command prompt with administrative powers and using sfc/scannow to repair any potential damage/corruption. The scan found no errors.
Attached are a few screen clippings to show you what i was talking about.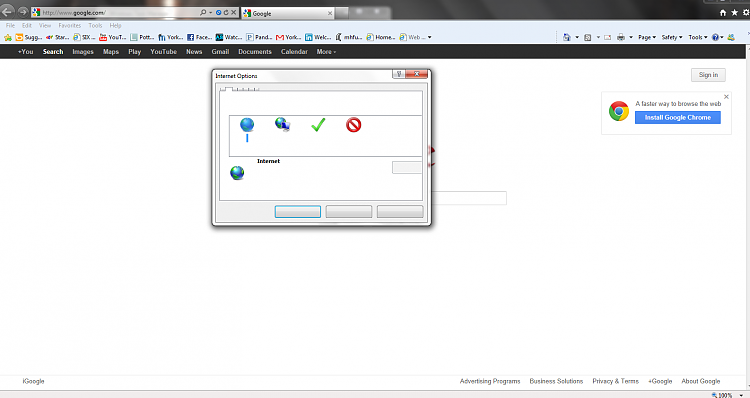 Any help would be much appreciated! Thanks, and have a great day. :)