Alright, I'm not sure why this topic is so hard for people to wrap their heads around, but let me try a different approach.
I'm going to start out with my own personal laptop. Here is what my C drive looks like as I start my exercise. My 80GB Intel SSD has about 44GB free space.
Here is what TreeSize Free shows, and the relative size of my WinSXS folder;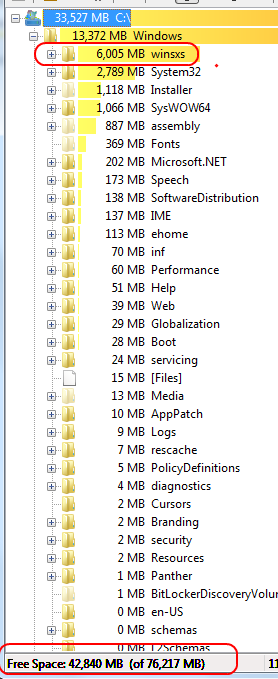 And finally a command line view of how much hard drive space I have;
So, I'm going to create a new folder. It's called C:\windows\ATestFolder and it contains a 569MB .PST file
And sure enough, looking at a command line shows that my C drive has about 569MB less space available.

So, everybody with me thus far. I have a folder, with 1 real 569MB file. This reduced my hard drive by 569MB. No shocks whatsoever.
Ok, so now lets go in and create 6 hard links to this same file; Notice how the folder now has over 4GB of stuff, my free size really hasn't really dropped.
So, later I run TreeSize Free and now try to figure out why my hard drive is so full and I find C:\Windows\ATestFolder is sucking up a whopping 4GB of disk space. (but take a quick look at the Free space at the bottom and compare to the free space in the Treesize Free image above...it's about 569MB different...and that's because of my 1 real file. But it didn't drop my usable hard drive space by 4GB like the folder would "seem" to indicate)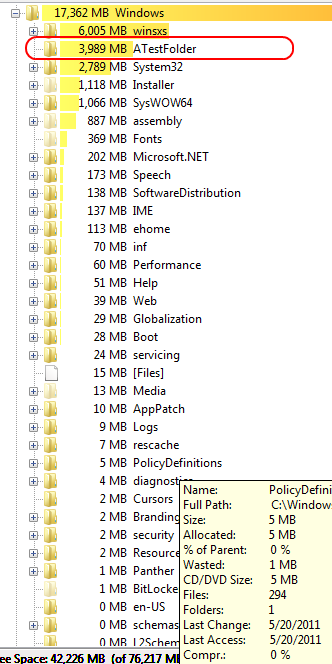 So, I'm going to simply delete everything in C:\windows\ATestFolder and get my 4GB of free space back. But notice what happens as I delete the files in the folder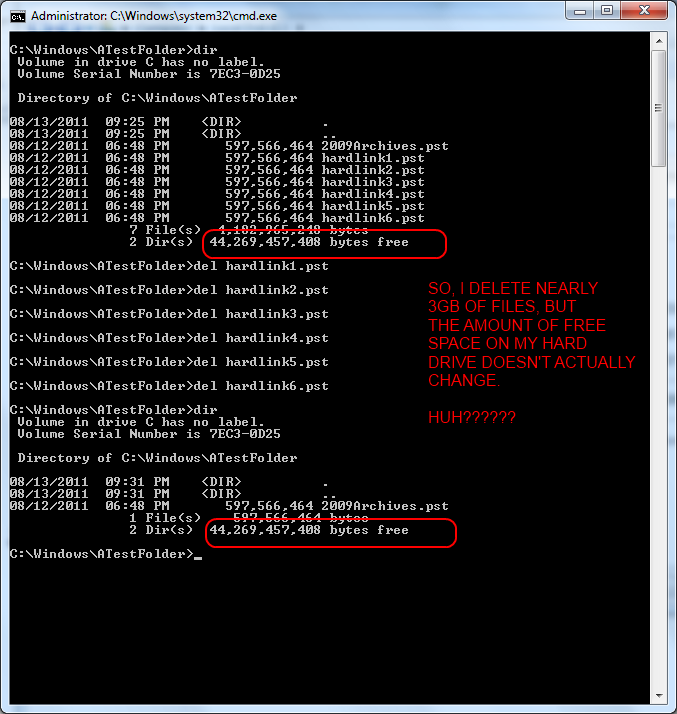 So, as you can hopefully see and understand...even though Windows explorer and TreeSizeFree seems to indicate that I have a whopping 4GB folder called C:\windows\ATestFolder...if my hard drive were ACTUALLY full...deleting this folder would NOT get me 4GB of free space back... I would have gotten back 569MB of free space back as I had 1 real file and 6 symlinks. So, while it appeared to suck up nearly 4GB of data to most tools.....if you look at my command prompts and the bottoms of my TreeSizeFree printouts that even with the addition of this whopping 4GB folder, my actual disk space didn't go down.
If you hard drive is full, it's stuff in places other than directly in C:\windows\winSXS. Most of the stuff in here, probably 60% or more are simply hard links..and are misrepresented in most tools. Deleting that folder would not get you back the amount of disk space that the folder seems to consume.
GET IT?