Hi Syngenta, welcome to the Seven Forums. Here's a comprehensive tutorial for Windows Search:
Windows Search - Configure and Use
A few additional tips for you in following screenshots below. Click images to enlarge.
Search whole computer or just one drive: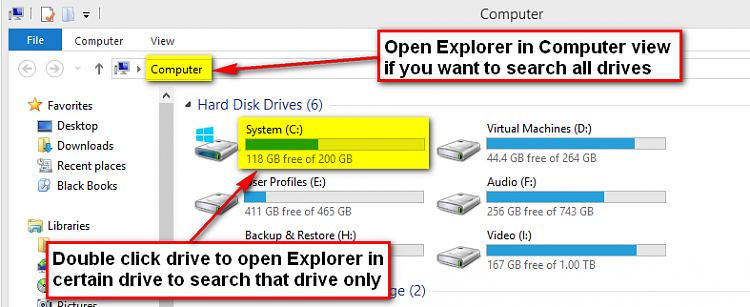 Search a partial filename:
Search an exact filename:
Search partial filename but only a certain file type:
In this last example you can also tell Windows Search the file type by using its extension. This finds all
PDF
files with partial filename
644
:
You can also use
AND
,
OR
&
NOT
operators to include more search criteria. With
AND
both criteria must be true, with
NOT
first one must be true, second one false, with
OR
one of the search criteria separated with it must be true. Notice that
OR
,
AND
&
NOT
must be written in capital letters.
This will find a
PNG
image where the name contains string
644
leaving out all files where also string
555
appears in the filename:
Code:
name:644 NOT name:555 ext:png
(Files 644.pdf and
644
9604.pdf would be included in search results, but file
644
234
555
.pdf would be left out.)
This finds all documents where partial filename is
644
and where also string
555
appears in the name:
Code:
name:644 AND name:555 kind:document
(Files
644
sfsg
555
.doc and
644
kasdl
555
asd.txt would be included in search results, but file
644
asdsf.doc left out.)
This finds all
BMP
,
JPG
and
PNG
images with exact filename
644
:
Code:
name:"644" ext:bmp OR ext:jpg OR ext:png
Kari