I recently Purchased parts for a new PC that I built myself, I have had experience building pc's for my friends and have never had any issues with windows 7 before. I installed windows from a thumbstick usb (64bit Home Premium) as I didn't purchase a CD rom drive as installing windows was the only thing I would need it for.
System Specs:
i3-2100
8GB Corsair Vengence at 1600mhz
128GB sandisk ssd
CX500 Corsair Builder PSU
Asus P8Z77-M PRO Motherboard
Nvidia GT430 4GB
On inital installation of windows I have no issues, only when I updated drivers did the issues occur. When windows was running opening internet explorer caused issues: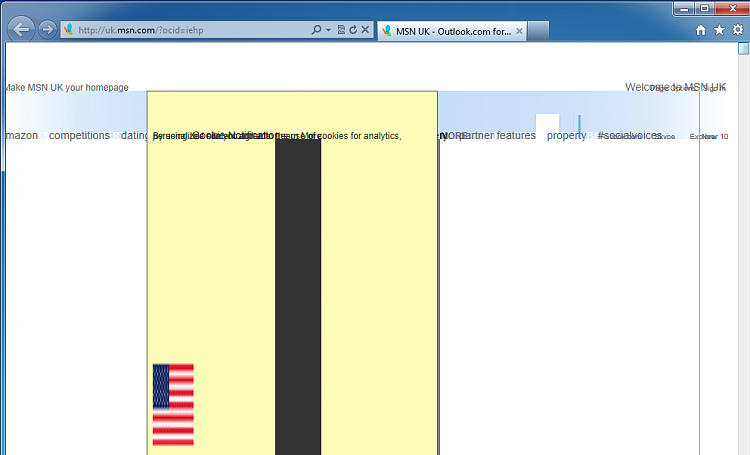 When moving the cursor around, this strange effect would occur more, when the cursor was still this image would just flicker.
When I first installed windows and updated drivers from windows updater activating Aero would cause the PC to crash instantly, no blue screen just the mouse cursor unresponsive and it would stay that way for hours, keyboard input would do nothing either and the clock remained the same time so the computer had completely frozen up meaning holding the power button was the only way to get out of windows.
I then tried reinstalling a few times: without a ram stick or without the gpu, the problem remained to occur with windows crashing completely every 5 to 10 minutes. This morning I tried plugging the SSD into a different sata drive and it hasn't crashed since although the issues other than crashing remain to occur:
As seen here the same issue occurs with skype which I installed with a usb thumbstick as Internet Explorer wasn't an option.
Also this strange black pixel formation has occured around the icons in windows explorer. This problem occured before any drivers were installed with and without using the vga adapter.
I ran a Ram test using the inbuilt on in windows and memtestx86 both showed no problems with my ram.
I also ran an SSD test named SSDlife Pro which said my SSD had eight years of life left.
It would be highly appreciated if anyone were to suggest any fixes for these issues as the PC is pretty much unusable in it's current state even though it is now stable without crashes.
I will take any suggestion and will post more information if asked, thank you for you time.