Green Tick or Blue Arrows Icon Overlay Displayed for Files in Windows Explorer
One of our readers wrote telling that in Windows Explorer some files are shown with tick mark in a green box and some with chevron in a blue box regardless of the file type. Here is a screenshot explaining the situation.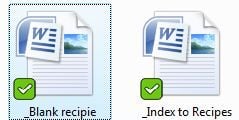 ...
After Googling the GUIDs, it was noted that the entries were added by
Norton 360
.
Norton 360 v2
adds a feature called "Backup Status Indicators" which clearly identifies which files have been backed up, which files are pending backup and which are excluded from backup. This feature is responsible for the Tick mark (green box) and double arrow (blue box) overlay icons.
Quoting
PCMag
:
A check in a green box means the fileís backup is current, while a chevron (Ľ) character in a blue box indicates a file thatís been changed since its last backup. Files excluded from the backup set display a slash in a gray box.

If you donít need the backup indicators feature you can turn it off by clicking
Settings
in the Norton 360 main window, disabling the
Backup Status Indicators
check box and clicking
Close
.
...more