Hi.
First I'd like to say that this is my first post on this site, if I've posted on the wrong forum do let me know. I picked general discussion because it seemed to be the most correct one to post this kind of issue.
I have an Acer Aspire 5920G from way back which originally came with Vista, but I upgraded to Windows 7 a while ago as I like it more and it is compatible according to windows 7 upgrade advisor.
I want to know if can put all the stuff I need to keep the laptop up and going into one of the drives(C drive), and format the other drive(D drive) for personal use
.
I want to do this because at the moment they both have used space but I don't know for what. I'd like to use the C drive for all the stuff the laptop needs, and empty the D drive and only put stuff in there of my own choice. Like my private files, pictures, university documents etc, and I have 100GB+ of those. I have been mingling around with the laptop recently myself as well, like removing the windows.old folder and some minor changes here and there(dont know if that is of importance or not).
Under computer-manage-disk management it says that both drives are primary partitions.
Here is a picture of the disk management;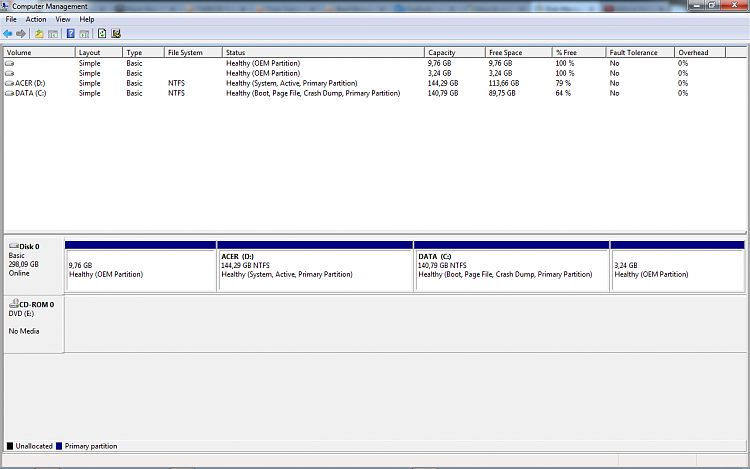 You can see the C and D drive, but I have no idea what the two empty ones above them are.
Please keep in mind that I'm IT illiterate. If there is any information regarding the laptop that I can give to aid the question, ask away.