Well it's like this:
To begin with you are doing something very different from me.
You have your OS systems nicely assigned each to their own SATA port. So each of your OS drives has a home.
I was screwing the pooch on that score. Damn dog has never looked happier. See below
My MOBO uses BIOS/UEFI and subsequent that and (I been doin' lots of reading - nobody ever makes this easy) I learned that the SATA ports are sensitive to which one is being used for an OS drive. Something gets written to the ROM in a UEFI environment - I'm guessing some identifier from the MBR, but I truly don't know. that something causes the mainboard to expect to see the OS in a particular SATA port. When it doesn't all hell breaks loose and dwarfs and gnomes bite your ankles under your desk.
My problem was that I was inserting my two different HDs into the same bay thus creating this confusion in the SATA port.
The solution was to use a different Bay for each drive.
So I shut the system down and pull one drive and put another into a different bay. Using say for example Bat (a) for drive (a) and bay (b) for drive (b) lets me boot without the problem.
As to this:
"Are your drives connected to SATA ports on your mobo? If so, they are actually internal ones."

Not true if you have
drive bays
which I do. I didn't mount any drives internally exactly because I wanted to do what I am doing.
Drive bay: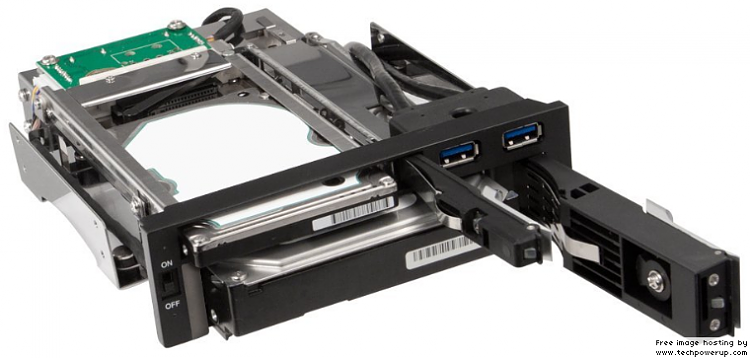 I just open the door and pop a drive in or out. I have 4 of these.
I like them way far better than internal drives.
Now I can run Ubuntu in one and Win 7 in the other.
I gotta say I am liking Ubuntu rather a lot.
As to the notion of Dual boot.
This is not dual boot.
Dual boot operators usually load both OS to the same HD. That would defeat my purpose. So too would having both OS drives in the computer at the same time. You have separate drives. Interesting. I wonder what would happen is you used a RAID 10 configuration.
What I'm doing is this:
I surf where no sane person should ever go. I GuaranDamTee that if mommy were to catch me surfing where I go, I'd get my rear end tanned good. And it goes without sayiong that every imaginable virus worm trojan and sundry malware is waiting for me in those dark nasty places of the web.
So I use Ubuntu to go surfing and linux doesn't use .exe to execute a file any action in a linux system has to have administrator privileges or it' a no go. Even the administrator user doesn't have those privileges because linux forces him to enter a password each and every time. The virus and malware hasn't got that password so it's dead on arrival.
There's a second part:
On the off chance that I get hacked or whatever and bad things happen, I can just Format the drive burning the whole house down and start over. No loss of important data coz the good data never gets exposed to the malware. I could throw away the drive too and it's cheap cheap cheap coz I don't buy top of the line drives for this, I get factory refurb drives.