Jumanji:

Here is wmic output on my drives.

Note that the starting offsets divided by the block size results in an answer of 2048 for 2 of the disks and 264192 for the other. All 3 at 2048 or later.

Can I assume these results are effectively what Bootice would tell me, at least for this specific issue?
Here is a picture of how Bootice shows my system drive. My system drive has three primary partitions and three logical in the extended partition.
As you can see all the partition details are available.
Start sectors of all NTFS volumes (Partition/Volume Boot Record) as well as the EBR (Extended Boot Record) are all shown.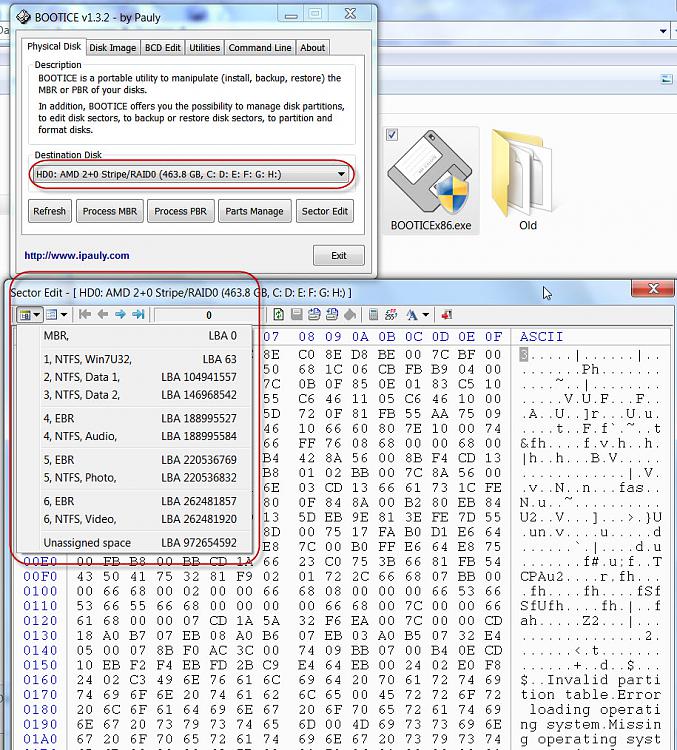 If I have any problems with my Windows Installation, the solution is definitely not diskpart clean which will instantly make my system drive inaccessible.
This will be the case with any one having the start partition on Sector 63.
( In my case I formatted the drive before installing Windows in 2009 to avoid the System reserved partition. Many have done that. In fact it was a hot topic then.)
Having said that I am still not clear what a "Windows Installation Failure" can occur, how it will manifest, and how will diskpart clean can only be the solution to resolve it. A technical explanation is required to be convinced.
If my Windows is still working albeit any problems, I shall only look for a solution other than diskpart clean. I have a backup of all these sectors and can restore them.