Thanks for replying rvcjew.
This is what I'm talking about. I have clicked on the k-meleon browser button in my taskbar and there is the column of windows I have opened. Notice that the window for this thread, which was the newest window I had opened is at the bottom of the column instead of the top like in windows xp.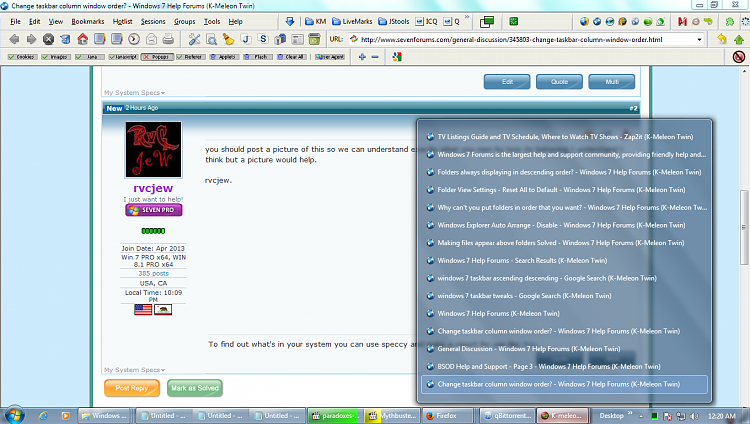 Now see in this 2nd pic I have opened several more blank windows to get the amount of windows opened large enough to where the column cannot display all of them, hence the scroll buttons at the top and bottom of the column. It appears that the column can only hold 20 windows before it goes into scroll-mode. Notice also that the newer windows are at the bottom of the column, so the newest windows opened will not not show up anymore unless you now scroll down to them, which is downright idiotic. XP put the newest windows at the top of the column, like it seems that anyone with even half a brain would do. I mean you are more likely to want to have what you were looking at most recently on hand the closest, and quickest to access would you not?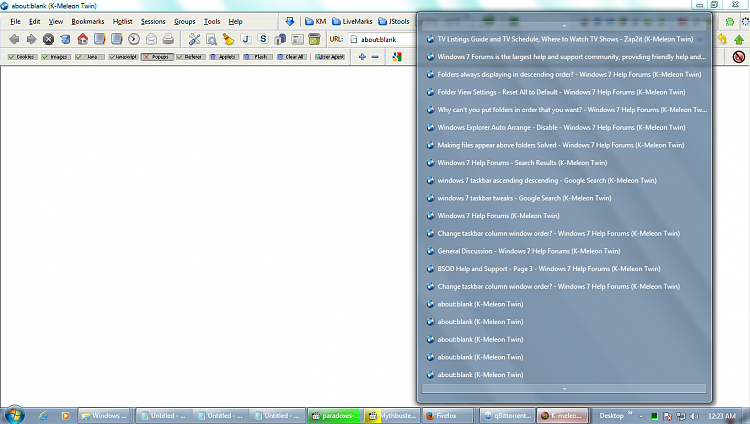 What compounds the problem even more is that the scroll buttons on w7 go about 5 times as slow as it does on xp. Which means that if I have 50, 60 windows or more opened and I want to call up a window that I was just looking at a few seconds ago I have to scroll down at a freaking snail's pace to get to the window. Like I said earlier what would take less than a second in xp could now take 5,10,even 15 seconds to do with the way w7 operates (putting newer windows at bottom of column plus incredibly slow scroll speed). To put the newest windows at the bottom of the column is one of the stupidest things I have ever seen in my life. I cannot fathom why they did that.
So I want to change my taskbar to where it groups the newest windows at the top of the column, and if I could improve the scroll speed that would be great as well.
thanks in advance for all replies.
*I will be going to sleep soon so I may not reply again until tomorrow - thanks*