greg, I also do not understand how his file system got damaged or disappeared if he had only run the clean command.
It it had not disappeared then PW would have definitely found it from the first sector of that partition where the partition boot record exists, just as it found the System Reserved partition.
Though the OP had not provided a snapshot, he has confirmed that even after a full scan he could see only the System Reserved Partition and four small boot partitions ( Which is an anamoly PW most of the time comes with and should be ignored.)
Even if the Filesystem has been damaged or has disappeared, and even if that main partition has been accidentally deleted including the Partition Boot Record, PhotoRec should be able to recover/ reconstruct his data. So I am working on that premise.
The only problem now is that with him using Hiren's CD we are not talking in the same language. :)
Hi @6arret, I just now created a bootable MSDOS pendrive with Rufus, extracted the zipped Dos version of Test Disk Dos/Win9x and copied all the files into that MSDOS boot pendrive. I also created a Recovery Folder on a 750GB external drive.
Shut down the PC, plugged in the MSDOS pendrive and also the 750GB external drive booted from the MSDOS pendrive, against the C: > prompt typed photorec.exe [ENTER] and here is the first screen.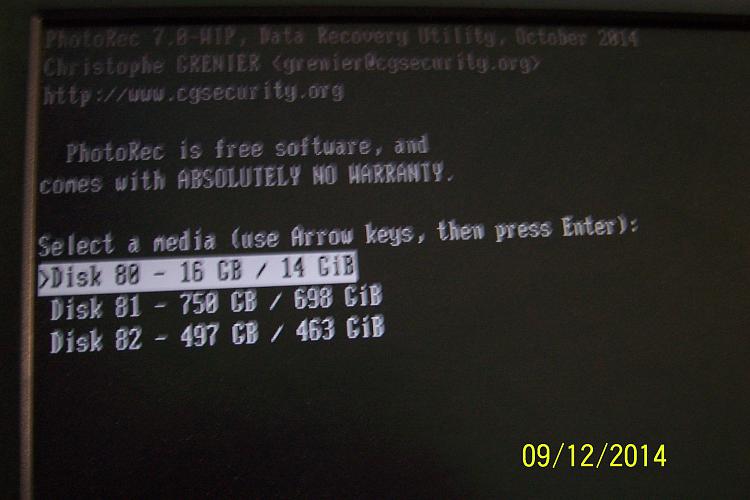 It shows my 16GB MSDOS/Test Disk pendrive, my 750GB external drive into which I will copy the recovered files, and my 500GB System drive from which I want to recover data.(identified by their capacity)
I would now select the 500GB system drive and go ahead with recovery.Destination the Recovery Folder on the 750 GB external drive. I shall not do anything with the 16GB pendrive from which I booted.
So if your first screen shows the internal drive from which you want to recover and the external drive to which you want to copy the recovered files, rest should fall in place.
(This post I started off long back and after all distractions in-between could complete only now. Hope it falls in place.

(I see some conversation has taken place inbetween.))