Hey guys! I've got this problem of an internet explorer icon on my desktop that cannot be deleted.
I've tried dragging it to the recycle bin (nothing happens).
Tried searching for it in cmd (can't find it in /Default/desktop, /<User>/Desktop, or /Public/Desktop, even with the dir /a:h /b setting)
The context menu is weird (see image).
Tried unlocker (unlocker option doesn't appear in the context menu of that file so i guess it doesn't work)
Tried MoveonBoot (can't find the file in desktop folder)
Basically that file appears on my computer's desktop folder (see image), but not when I access the Desktop folder from elsewhere, such as to upload on sevenforums (see image)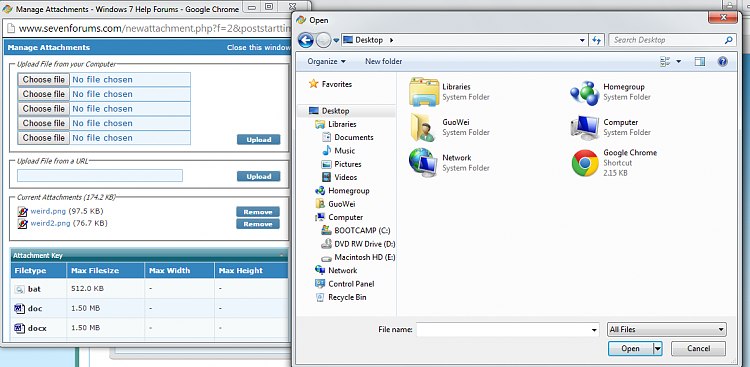 All I can do with the file is rename it (it was originally 'Internet Explorer' and, as you can see, I've named it 'wtf'). I cannot move it to a folder either (it creates a link in the folder instead of itself moving into the folder).
If you're wondering what happens when I run the file, basically internet explorer runs but the homepage is reset to some Chinese site
I would greatly appreciate help in removing this icon that hopefully doesn't involve reinstalling windows.
Cheers