I see this window issue from time to time - so, I'm going to chime in.
FALSE. The info is wrong in those threads. The technet links posted in both threads are for the Windows 2000 operating system... and yet, the threads are mostly about Windows 7 systems.
From a fresh install of Windows 7 pro 64bit: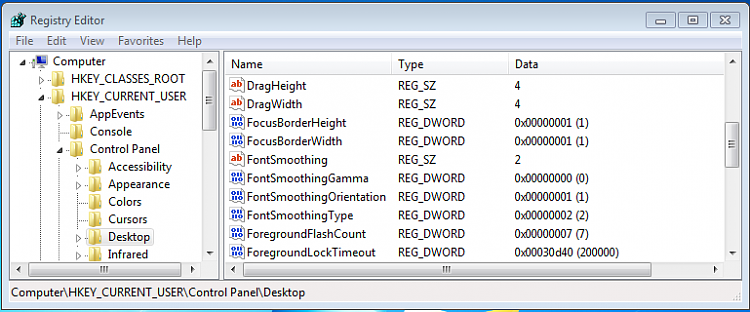 ForegroundFlashCount = 7.
In the "answers.microsoft" thread,
styler918
mentions that ForegroundFlashCount = 7 for windows 7.
styler918
is advised to change that to 3.
Meghmala
never meant to suggest that people change these values to fix the issue.
Meghmala
meant to tell people to set their values to the default values.
Meghmala
simply referenced the wrong default values.
The default value for ForegroundLockTimeout is 200 seconds (200000 milliseconds) for both Windows 2000 and Windows 7.
As mentioned, the "answers.microsoft" thread just wanted people to compare (and set, if need be) their values to the (wrong) default numbers. The suggestions in the "social.microsoft" thread can get confusing:
On 22 Oct 2011,
johnqflorida
links to the "answers.microsoft" thread.
On 06 Feb 2012,
F00DSTAMP
proclaims that changing the ForegroundFlashCount to 3 fixed things.
F00DSTAMP
came away with the wrong setting and probably did not test long enough to know if the issue was really fixed.
On 22 Aug 2012,
BillGateFollower
suggests setting ForegroundLockTimeout to 0. Unfortunately,
BillGateFollower
also quotes the Windows 2000 default for ForegroundFlashCount as being 3.
On 09 July 2013,
Eric Miner
quotes
BillGateFollower
's post and says, "
All it took was the number 3.
"
Eric Miner
makes no mention of setting ForegroundLockTimeout to 0 (which was the point of
BillGateFollower
's post).
On 02 Jan 2014,
krish.badder123
proclaimed that setting ForegroundLockTimeout to 0 fixed the issue for one user profile, but the problem still happened for other users. On that computer, the issue seems to happen quite often.
There are other suggestions that don't make any sense. Some of them fall in the category of "the cure is worse than the disease".
So - what to do? What to change? Why so many different stories about which change fixed things?
Windows are placed on the desktop using X and Y coordinates. The Z axis (Z-order) is used to describe how windows are stacked on top of each other. The Z-order is a simple list - top window to bottom window. The Z-order of windows is handled by the video driver - which are influenced by themes. That Z-order gets messed up - windows get stuck on top - the window in focus is not always on top.
People might make a change in the registry and restart the computer. They might not wait long enough before declaring the issue solved. I don't see this issue every day. Perhaps others see it every few minutes. It probably depends on how messed up their video driver is and how various windows interact with the Z-order (e.g. how the window asks to be on top).
You can change these registry values if you want, but updating the videoDrivers (or maybe changing themes) might set them back to the correct default values. Some people mentioned that their registry changes did not hold.
I need to go ahead and make this post or the image that I attached will be deleted (because the post was not finalized soon enough). I'll ramble on in another post.
Edit:
...and it happened. The image was deleted. Even hitting the post preview button could not keep that attached image from being deleted. I type too much and too slowly :-(