Mine also move occasionally and I do not know how to lock them in place. I only have 4 icons/folders on my desktop, so it is not a problem for me. I like a clean desktop so I put icons in folders such as tools, games etc. in my personal folder. I right click on the task bar, then new toolbar and follow the path to those 2 folders. It puts them on the task bar and works like the old quick launch we used to have. They are more convenient than using the start menu. My PC is a W 7.

To move them in the first place, I have to right click on the desktop, then view and remove the check mark from "a line icons to grid".
We still have the Quick Launch Menu. It just as to be enabled first. Brink wrote a brilliant
tutorial
on how to enable it. Here is mine. I even have shortcuts to my drives, Computer, Windows Updates, and Control Panel in there. Pretty much one stop shopping.
I don't know why everyone is making this so complicated. All one has to do, once one drags the icons to where one wants them, is right click on an empty spot on the desktop and click on Refresh. No need for extra folders, tool bars, special software, stone tablets, etc. It's shouldn't be necessary to uncheck Align Icons to Grid (I didn't; keeping it checked makes keeping the spacing between them uniform). This is a shot of my primary monitor screen. Note that I have a group of icons near the lower right of the screen in addition to the ones on the left side of the screen as well as a couple I have hanging out by themselves so I'm more likely to notice them.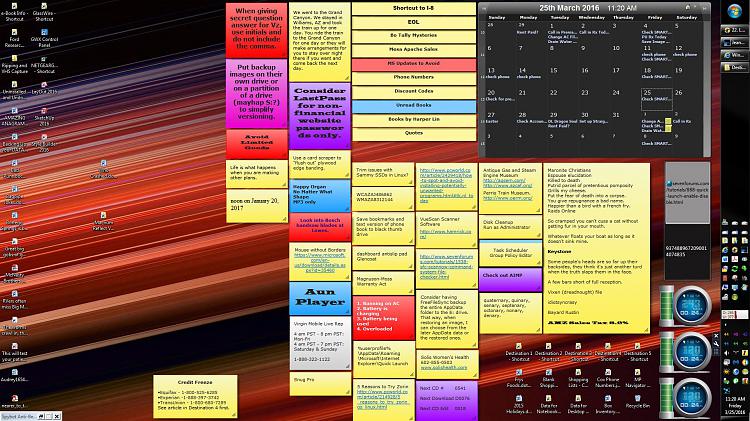 Once I click Refresh, everything stays put.