I apologize if this is the wrong section, I'm new to this forums, but I'm kinda desperate.
I barely use my PC, I use it mostly for games, music and some videos now and then. Also incase I've forgotten to mention it's pretty new (maybe 2 months old).
I pinned my VLC Media Player so I could access recently used items faster. Whenever I play an .mp3 file it is added to my recent list, although when I try to re-play it from the recent list it gives me the error:
Quote:
"The item you selected is unavailable. It might have been moved, renamed, or removed. Do you want to remove it from the list?"
What I've meant by pinning my VLC and accessing recently played .mp3s: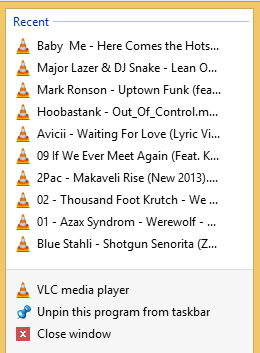 UPDATE
: Also, I think it's important to mention I'm using Classic Shell.