Mengistuh
,
Not a problem. This is how you can view the Refresh rate of you monitor, 60 is best. But this won't solve your problem either, as older monitors could produce higher refresh rates than 60MHz whereas many LCD monitors cannot (Don't need to as much - little factoid for you):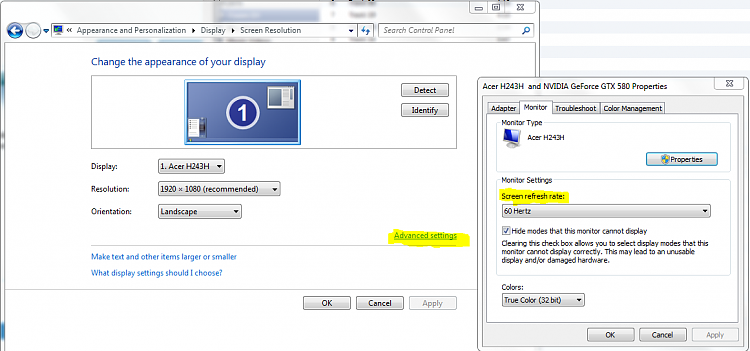 Sorry that reinstalling the Graphics software didn't work for you. Would you mind attempting again? You might consider installing a thorough uninstaller such as Revo Uninstaller Free (
http://www.revouninstaller.com/start..._download.html
) to remove it with, but if you don't want to, once more remove them in the control panel.
Remove all of Nvidia software BUT uninstall the actual graphics driver LAST
. Unfortunately, it is also likely that this will not help solve your issue either, but it is a small step in the right direction. Here is a picture of the drivers to remove:
Then look here for your driver, install it and select "custom" install. Select
all
drivers (May leave 3D drivers out if you don't use them) and select "perform clean install":
http://www.geforce.com/Drivers/Results/38916
As I've said, sadly it is likely that the program or game is just too old to work with your computer. What is it by the way? Sorry if you've already said. If compatability mode doesn't help, nor does lowering graphics settings including resolution work, then there is little else. You might try troubleshooting it. My next post will tell you how -