Okay so I've just received this video card for free and tried running some old games. I ran GTA San Andreas with this settings:
View Distance = 100 (Maximized)
Frame Limiter = OFF
Visual FX Quality = Low
Anti-Aliasing = OFF
Resolution: 1024 x 768
And the video card surprisingly ran the game with a horrible frame-rate which is 35-90 FPS.
The specs of the card: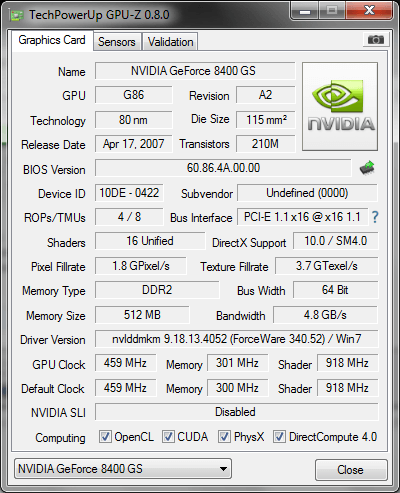 It was no surprise that the card that I recieved for free is a 1st revision of the 8400 GS (2nd revision boasts a G98GS Chip while the 3rd uses GT218 that is found in GeForce 210.).
There you have it guys. I don't know how it made to the market if this card couldn't even handle a 2005 game