Hello,
My graphic card is Radeon X1950 Pro. I'm using CCC ver. 8.2.
I can't clone display from monitor to my TV (an old CRT connected via S-VIDEO).
I was trying to do this in CCC but nothing happens. So I used Window's option - "Screen Resolution" and I get this error: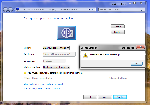 I was also trying to lower resolution, but still nothing happens. I add that Extending Displays working fine.
I'd be really grateful if someone could help me solve this problem.
Greets!