For a few weeks, I've been completely unable to install Nvidia drivers. The installer begins, screen goes dark for a moment (normal driver installation stuff), but returns with this.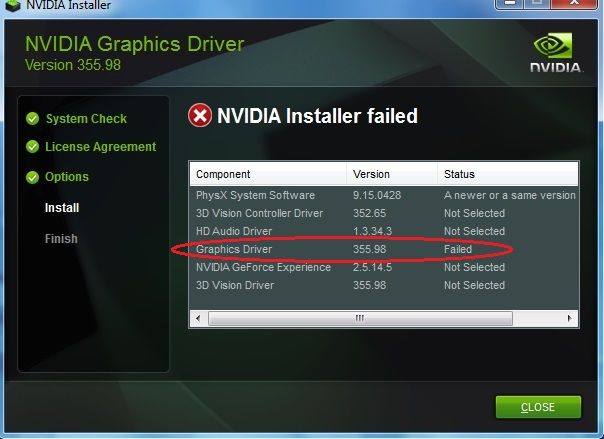 I've been all over the internet and no "solutions" have worked for me. Here's a list of things I've tried so far:
I am the administrator. The only existing user.
Tried running the installer as administrator.
Clicked "Perform a clean installation" in the installer.
I don't use Windows Update to install display drivers EVER.
I never use GeForce Experience. It's not even installed. I download all my drivers directly from the site.
Yes, it is most definitely the correct driver for my card & system.
Tried disabling/uninstalling/installing from Device Manager. I point it to the correct (yes, I'm sure) driver folder and receive an "Access Denied" error when attempting to install this way.
I've tried installing older drivers. Didn't work either.
Tried a "Take Ownership" context menu method I found in another forum. Didn't work.
Ran CCleaner on the registry, as well as the rest of the system just to be thorough.
Already wiped drivers with Display Driver Uninstaller several times.
Tried disabling my antivirus, then UNINSTALLING my antivirus.
UAC is turned completely off.
Windows Defender is disabled.
And many, many combinations of all the above both in and out of safe mode.
In the meantime, I'm stuck using my old DVI monitor. Any advice to deal with this nonsense? I'd rather not have to reinstall Windows.