So here's what's happening:
I am on an Acer Aspire M5100 desktop that came with Vista 32x preinstalled. I bought a ATI Radeon HD 4550 months ago that worked fine on Vista. I wanted to install Windows 7 64x Home Premium, so I bought a copy through Microsoft, created a boot disk, removed all non-original components (including graphics card), and did a clean install. I installed all my additional hardware and everything worked fine until my graphics card.
When I installed my graphics card, I downloaded the most up to date drivers (I got the link from this site), and rebooted. Upon reboot, my BIOS load, Windows starts to load, and then I get a blue screen. The blue screen flashes by so quick I can't read what they're saying. Then my computer restarts, and we start over again (blue screen cycle).
So I reconnected to the onboard gpu, and it started. Then I went into the Device manager, and uninstalled the old driver. Reinstalled my Radeon 4550, and current drivers, rebooted, nothing. Tried reinstalling windows 7, this time, removing old drivers first, than installing. Still nothing. This happens every time I enable the video card and then reboot.
I'm a noob so I've searched this site up and down. I've heard that maybe I need to update my BIOS. So I went to Acer.com to download the BIOs, and they don't have any listed for my PC.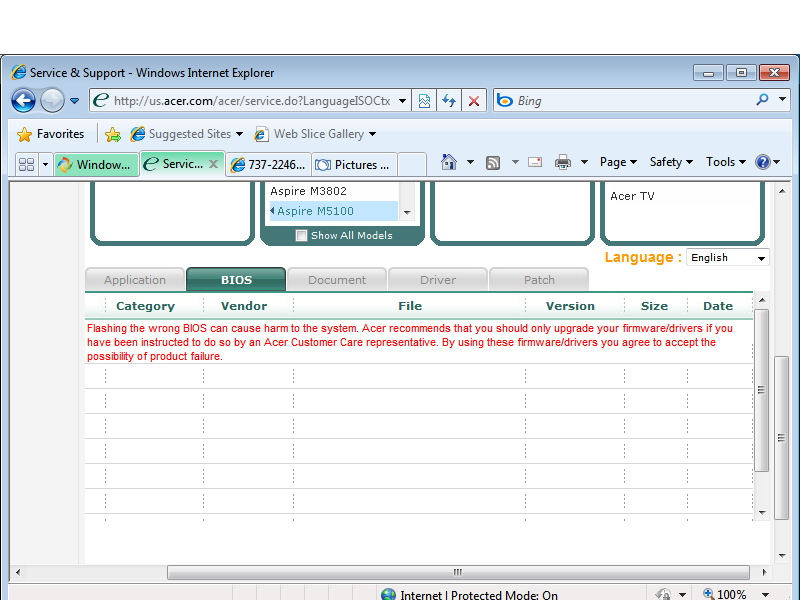 With that said, I'm at my wits end. If anybody has any thoughts on what to do next, I truly appreciate it. Thanks.
Edit: Here's my System Specs:
System Manufacturer/Model Number: Acer Aspire M5100
OS: Windows 7 Home Premium 64-Bit
CPU: AMD Athlon 64 X2 Dual Core 6000+ (2CPUS), ~3.0GHz
Motherboard: AMD 690G
Memory: 4g DDR2 SDRAM
Graphics Card(s): ATI Radeon HD 4550
Hard Drives: ST3500830AS ATA Device
WDC WD5000AACS-00G8B1 ATA Device
Thanks again!