So how do I interpret this 1GB sequential test for my Seagate Barracuda 7200.12
(ST31000528AS).
Attachment 135092
Add: The 512k and 2x 4k tests are random data tests.
It seems that with that test and your mobo that your 7200.12 indeed hits 120MB. I've got a 7200.12 in one of my machines and this is how it tests with HDTUne;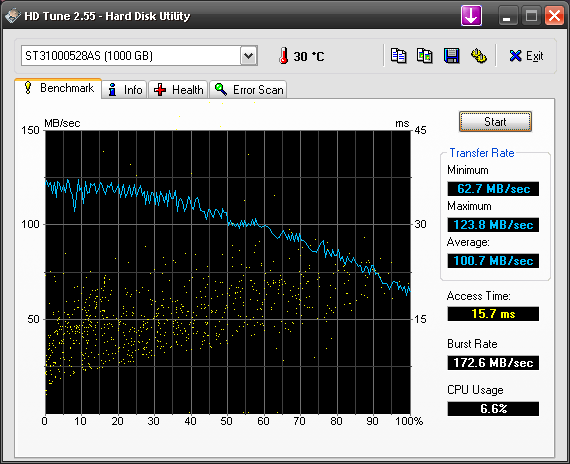 Either way, I don't think that most standard hard drives are pushing 120MB+ consistently....so I still don't think that I would insist upon a 7200RPM if it's external for backups. If you need all out speed, then by all means buy the 7200RPM and be happy. But if you can get a great deal on a 2TB drive, but find out that it's only 5400 RPM it doesn't mean it has to be a showstopper. It might only be the difference between 98MB/sec and 107MB/sec. And usually with a backup application, it's going to have a bit of processing time anyway..so your drive won't be running at it's max throughput most likely.
I'll have to give that other benchmark a run on my machine and see how my 7200.12 does.
I found HDTune & CrystalDiskInfo give similar results.
Your actually getting ~120 MB/s on the outer tracks (first 25% of your HDD).
The amount of data you can feed to your heads is proportional to radial velocity. This equals radius x angular velocity.
This accounts, in part, for the drop off curve and
- 7200 rpm gives greater transfer rate than 5400
- fuller disk = slower disk.