This is post #1, the thread starter, He is using HD Tune and posted a link to AS SSD.
This thread, since it's beginning has been for all SSDs and all benchmarks as many people have there own preferences.
I'm interested to see what others are getting out of their SSD or SSDs in RAID. It's cool to look through the "Show us your hard drive performance" thread but here's a place for just SSD performance. I have a 128GB Patriot Torqx. (F/W v1881) Please post your benchmarks.:)

Edit: I now have 2 Patriot Torqx drives (Indilinx controlled) and am running v1881 F/W and LOVE them both like my own kids. haha They are great drives but there are better ones out there and even better ones coming out soon. Thanks to whoever made this a "sticky" It's a good thread.

Benchmark Program Links:
There are a lot of forums that prefer one SSD benchmark over others, you can find diverse reasons on any forum for their choice.
Some say there are benchmarks for HDDs and benchmarks for SSD and they aren't very accurate for the device that they weren't designed for.
It would be nice if everyone stuck to one set of bench test software :) :) ... I have the Kingston SSDNOW 64gb drive and after setting everything up correctly ACHI ect ,ect I just tested it and for a low cost drive it works well.

ATTO I get 122/225 Not bad for a budget drive at all..
Some forums have threads for specific SSD benchmarks.
Here is one:
AS SSD Benchmark thread
If you would like to see a specific SSD benchmark thread, you can start one.
It is interesting to see the same benchmark for different SSDs.
I have read that ATTO started as a HDD benchmark, AS SSD was made specifically for SSDs, but that is just my preference and everyone is entitled to theirs.
ATTO uses compressible data for the benchmark which makes the OCZ SF controllers look good because they compress data.
AS SSD uses un-compressible data so will give the SF controllers much lower read/write rates and scores.
Neither of these benchmarks are good indications of normal usage.
One gives you high numbers that you won't see in actual usage, the other gives low numbers that you will exceed in normal usage.
On a slightly different topic, OCZ has published AS SSD benchmarks for their SSDs.
OCZ SSD benchmarks using AS SSD
from the OCZ website.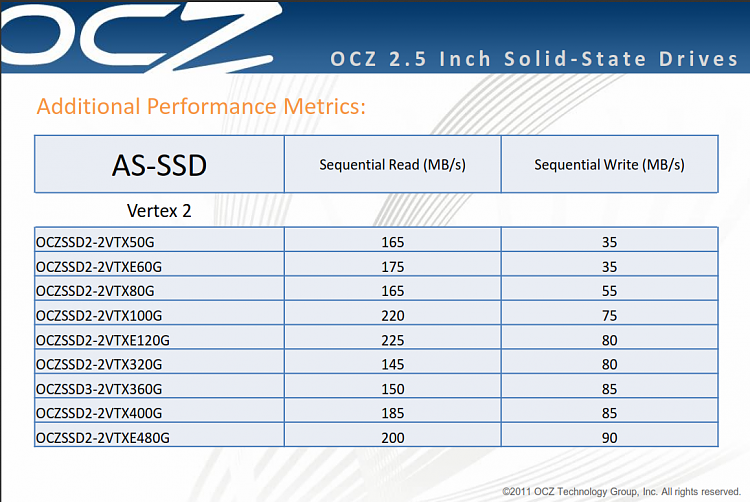 Not quite their published numbers.
Have to give them some credit for posting these benchmark results that are different from their published numbers.
Also have been reading posts from some very disgruntled customers that have received the new Gen3 25nm SSDs with no notification, change in model name or part number.
Evidently the Gen3 speeds are a bit slower than the Gen2 models and the expected life is lower.
Doesn't sound good.