Hey there, I'm new to this. I was working with Windows 7 32 bit and recently decided to take advantage of more RAM for recording music by upgrading to Windows 7 64 bit. However, after the upgrade installation my WD MyBook Studio II 2tb is no longer recognized in "My Computer" when I hook it through firewire OR USB (Yet all other devices work as they should) - So I've been to Disk Management and it shows up as a disk. However, there is still no letter assigned to it. When I right click on it, the only option is to
delete volume
. As you can see in this picture it shows up as disk 2 with three separate regions.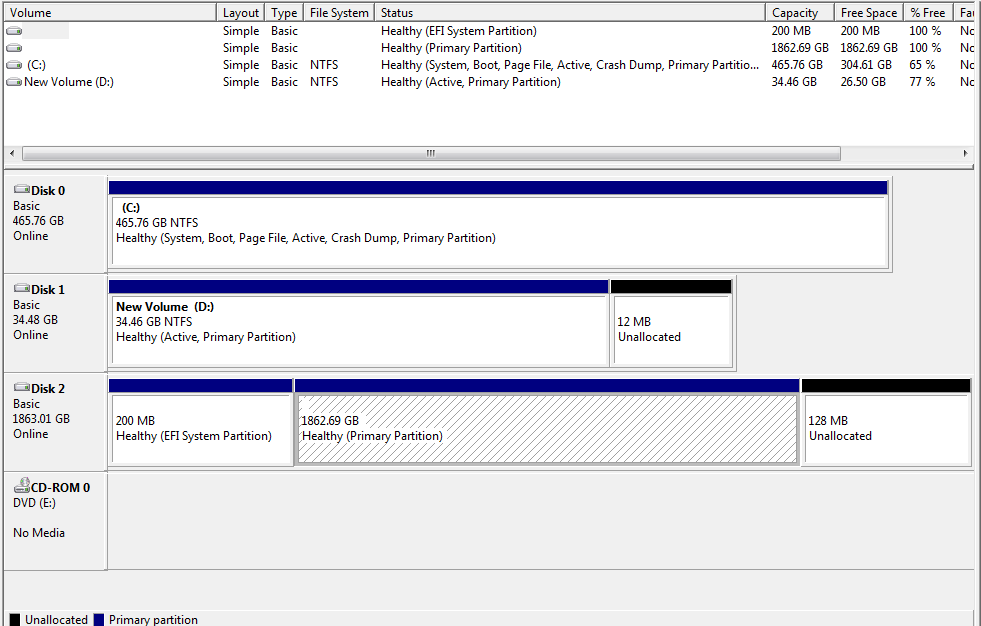 Now, when I hook it up to a MacBook running Leopard the WD MyBook Studio II works just fine and all of the files are accessible. I've also tried uninstalling the drivers, powering down and reconnecting, updating drivers. I've also switched my firewire controllers to (Legacy) in Device Manager. I still am not able to access my external drive within Windows 7 64 bit Home Premium - YET it worked great with 32 bit.
I can't remember if I disconnected the external drive from the computer when I upgraded Windows, but would that potentially have affected the install? How do I get access to my external drive if it won't show up in "My Computer" when it shows up perfectly fine on the MacBook running Leopard? Right now I'm using just less than half of the drive at around 800 GB and it's made up of two separate 1tb drives. I'm completely lost. Does anyone know a solution to my problem?
Also: Windows lists my specific external drive as compatible with Windows 7 64 bit.