@AllOnTheBus- Would it still be getting an IP address for the ad-hoc network (even though it is in no way connected to my router or the internet)? Because I tried printing out the network configuration while it was connected to my computer over the ad-hoc network, but when I typed that (now different form the original 192.168.1.116) IP address into my browser, it couldn't find anything there.
And that's what I got out of ad-hoc networks too; they form their own network completely independent of any router. In fact, it seems that it's impossible to connect to more than one wireless network at all ad-hoc, wifi, or otherwise, unless you have multiple NIC cards. So it definitely functions independent of the router. Although I'm not clear on whether the machine that created the ad-hoc functions as the access point, or of all the devices take care of their own data routing. I think it's the latter, which would imply that the ad-hoc will remain active until the last device disconnects, regardless of whether the original device stay in it or not. Which I think makes sense.
Well, if I set the printer up on an ad-hoc instead of my normal wifi, then other computer would have to connect to that ad-hoc to use it. In theory, once they connect to the ad-hoc, the printer should accessible just like it normally would if it was hooked up to the same wifi network they were on instead. So if the ad-hoc had a passkey put on it, only people with access to the ad-hoc network (by having the passkey) would be able to print to it. So their computers could easily "see" the ad-hoc network, but without accessing it, they wouldn't be able to "see" the printer. I don't think I'd be able to independently allow or deny access to the printer once they're on the network, though. In fact, I'm not even sure how I would do that on a normal network... if you tell me how I'll try it out!
@DeaconFrost- Yeah, I thought it'd be a piece of cake too. Unfortunately, one of the few aspects of computing that I'm not overly familiar with is networking. Also, like I said, my network doesn't have a passkey, and I'm not the one in charge of it, so I can't set one up.
Actually, here's a screenshot of the printer's setup page: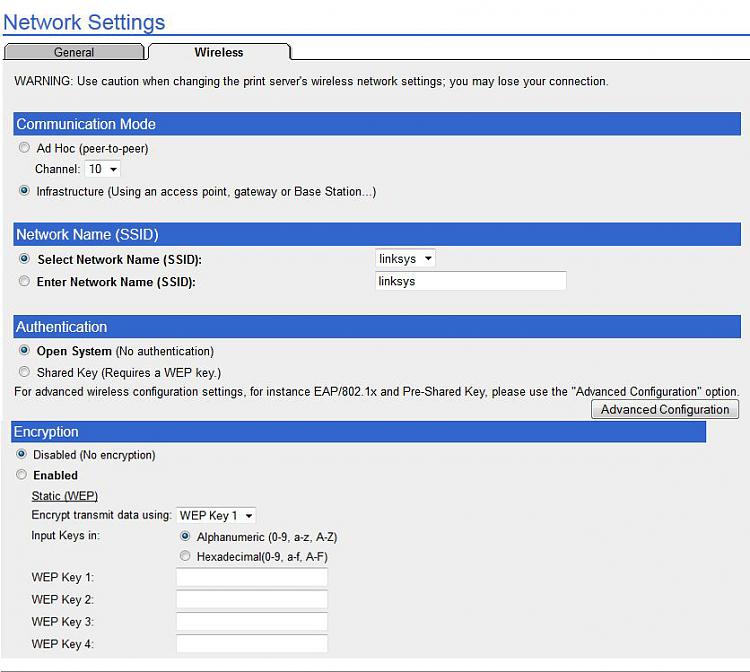 Now, what has me confused is that I don't know if this is for setting up a network, or connecting to one, or both. For instance, so far I have managed to accidentally create an "hpsetup" ad-hoc network from the printer, purposely create a "Printer" ad-hoc network (which while my computer would connect to it, I couldn't figure out how to access the printer from that network) and purposely connecting to my wifi network. But I don't quite know how it decides whether to try to connect to an existing network with the information I give it, or whether to create one. I think that's the root of my confusion. How does it decide that? When I bought it, it didn't include any kind of user manual. If you could clarify this stuff for me, that'd be great!
I originally wanted to use an ad-hoc network because I could secure it with a password, unlike my wifi network.