I have printers that are like the zombies from a resident evil movie. I need to find out how to do a head shot.
SKIP this paragraph is you are not into the tale of drunkenness and cruelty.
While trying to install an older legacy printer I triued out a bunch od driver types.
You know how HP is they produce a line with a prinary designation like LASERJET 5 and then produce a whole sles of other printers like PC PCL M N and a whole alphabet soup of names while also failing to put those additional designations on the printer - anywhere front back rear factory label you name it ain't there, and HP doesn't even have away to associate the serial number with the type of printer. It's nutz.
So anyway~ ~ ~ ~ ~
I have all these ghost printers installed with no physical printer and it bugs me. It feels untidy
When I go to
Control Panel
- -
Hardware and Sound
- -
Devices and Printers
and then use the
Remove Device
option from the right click drop down menu the printer icon disappears ONLY to return later.
Later as in if I close the control panel and then reopen it they are back
Here is Control Panel After I deleted them
Here it is AFTER I deleted them and Re opened Control Panel and They're BAAAACCCKKK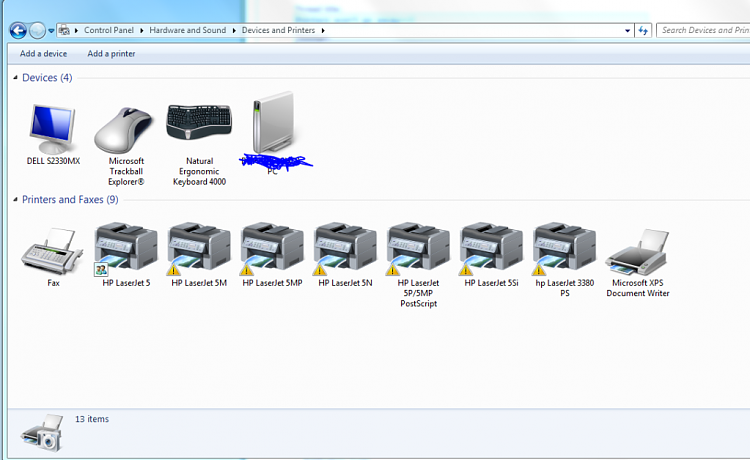 Any one got a clue what I'm doing wrong??